Why saddling up in Canada's Western province may just blow your mind.
by Darley Newman
Canada is a wonderful country to enjoy outdoor adventures and along the country's Western coast, British Columbia is a stunning place to ride with snow-capped mountains, pristine lakes, abundant wildlife and awesome fishing. Ranches in BC welcome guests to explore up high, riding mountain trails to scenic spots, or down below, cantering through grassy meadows in Canadian Cowboy Country.
While we love riding in many places, here are 10 reasons why BC stands out as a destination to hit the trails.
#1 Sensational Snow-Capped Mountains
Check out these views! Mountain ranges abound in British Columbia, including the Canadian Rockies, Coast Mountains, Cassiar Mountains, and the Columbia Mountains. Riding at Tsylos Park Lodge at the North end of Chilko Lake, you're in for dynamite vistas. To top it off, the mountains cascade down to Chilko Lake, one of the largest lakes by volume in BC.
Taking in the views with Tsylos Park Lodge.
#2 Endless Riding Trails
Horseback riding is popular for BC locals and tourists for a reason. There are lots of trails to enjoy. Guests can take off on horseback from numerous ranches, like Echo Valley Guest Ranch & Spa, Siwash Lake Guest Ranch, Spring Lake Ranch and beyond.
#3 Great Gallops
For those who want to ride fast, this is possible at some destinations in BC, including at Siwash Lake Ranch and Tsylos Park Lodge. In fact, Tsylos has a special place for cantering called "The Upper Roller Coaster." (see photo below!) Looks like fun to us!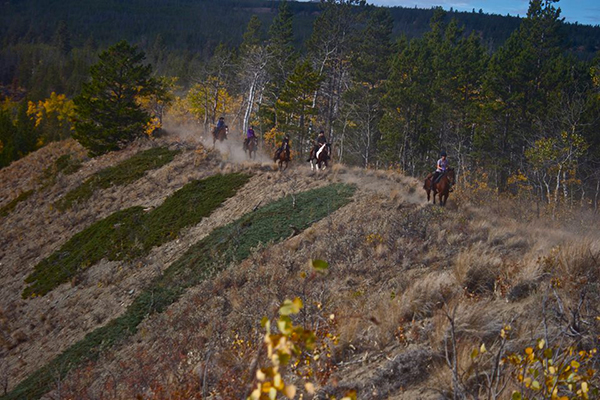 One of the favourite canters of the week of lodge riding, The Upper Roller Coaster, at Tsylos Park Lodge.
#4 Fantastic Fly Fishing
Guests from all over the world travel to Tsylos Park Lodge for river dry fly fishing for wild rainbow trout. Located in the remote Canadian Wilderness, guests fish on the Chilko River by drift boat, jet sled or float-tube. Whether you fish in the pond right on the ranch or travel to one of the many lakes and rivers, Siwash Lake Ranch offers exceptional fishing for wild trout.
#5 Truly Wild Surroundings
You may find yourself in some pretty remote locations if you choose to get off the grid in BC. Tsylos Park Lodge is located 80 air miles north of Vancouver at the north end of Chilko Lake, the dividing point between the Chilcotin Plateau and the Coast Mountains. At Siwash Lake Ranch as well, you'll find yourself immersed in the wilderness and the sounds of nothing but nature.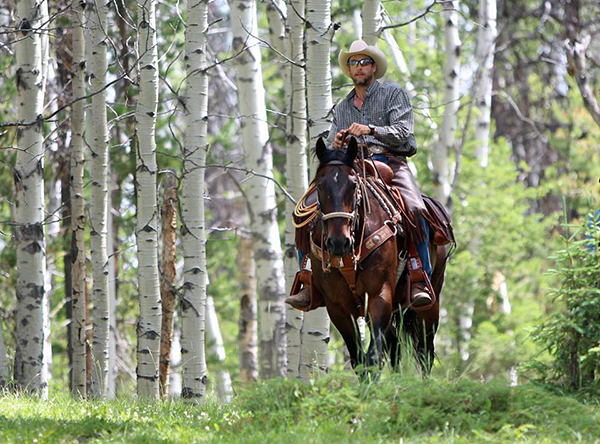 Riding amid a forest of Aspen trees at Siwash Lake Ranch.
#6 Peaceful Isolation
For those who want to unplug, you can certainly do so while riding in this part of Canada. Like many off the beaten path destinations, you may find that your mobile phone doesn't work and when you're riding out, neither will Wi-Fi, but we believe it's a good thing to take time off from these devices once in a while. Take the time to look around yourself and truly enjoy the meaning of peace.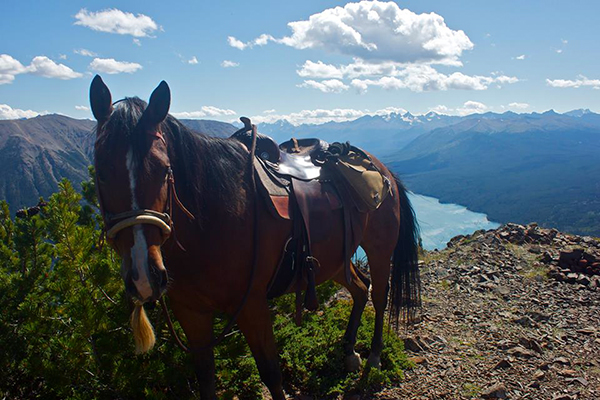 Pretty Chilko Lake at Tsylos Park Lodge is surrounded by huge mountain peaks, quiet forests and is fed by dozens of glacial creeks.
#7 Environmentally Friendly Lodgings
Many ranches and lodges work to stay in tune with the environment and to keep the land around them free of development. This is harder and harder to do these days and by vacationing at places that practice this stewardship, you can feel good about where your dollars are going. Siwash Lake Ranch has a variety of best practices in place to ensure that guests and staff stay "eco," including using ranch grown and organic local products, conserving energy and practicing leave no trace horse riding.
#8 Pick Your Adventure
From horse riding to fly fishing to kayaking to outdoor yoga, there are lots of adventure attractions at ranches and lodges in BC. The trouble might be what to choose when!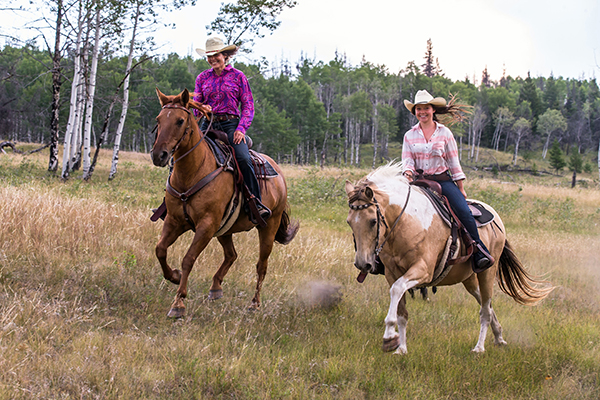 Riding fast with Siwash Lake Ranch in Canadian Cowboy Country.
#9 Wonderful Wildlife Viewing
With protected parks, ecological reserves and pure wild spaces, there's room to roam for wildlife in BC and great places where you can saddle up and explore to view wildlife. In the fall, Grizzly Bears travel along the Chilcotin Plateau to feed on the Sockeye salmon who have returned to the river to spawn. Guests with Tsylos Park Lodge can take special guided Grizzly Bear Viewing & Photography Trips.
#10 Wilderness Comfort
While you can take off on a wilderness pack trip while in BC, guests can also stay in posh comfort at a variety of lodges and ranches. Upscale Siwash Lake Ranch offers the Ranch House Suites, Cariboo Suite, and private Canvas Cabins, luxury tented suites that personify "glamping." Tsylos Park Lodge hosts guests in a newly rebuilt log lodge with a classic stone fireplace, Jacuzzi spa tub, fully stocked bar and big decks overlooking the Chilko River and valley.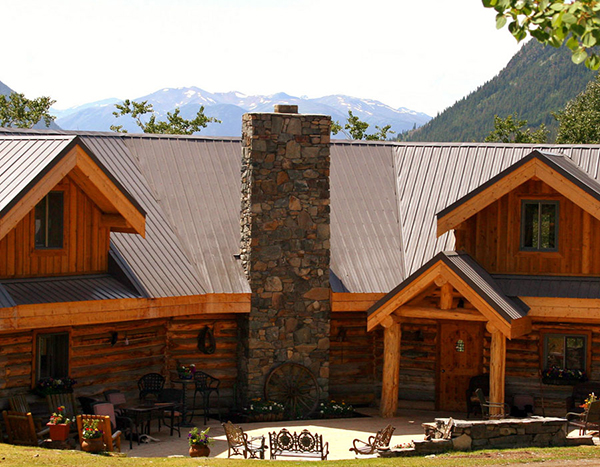 Tsylos Park Lodge features a handcrafted log lodge overlooking the Chilko Valley and river.
Learn more about horseback riding in British Columbia at Tsylos Park Lodge and Siwash Lake Ranch and check out more riding vacations in the Equitrekking Vacation Guide and Top Travel Deals.
Topics: BC Horse Vacations, British Columbia Lodges, Canada Horseback Riding, Horse Pack Trips, Rockies Ranches, Siwash Lake Guest Ranch, Tsylos Lodge, Tsylos Park Lodge