Dude Ranch Vacation Deals & Specials on Horseback Riding Vacations!
We continually update the Equitrekking Travel Deals page and blast it out first in Equitrekking's free monthly e-newsletter. Sign up to get the best dude ranch vacation travel deals first. Enjoy discounts on riding holidays and bargains on cattle drives and riding vacations. Need more ideas? Search the Equitrekking Vacation Guide and Top20Ranches.com.
Featured Ranch Vacation Deals and Discounts on Horse Riding Vacations
Interested in taking a family ranch vacation, horse safari, cattle drive, all-inclusive trip or riding holiday in Ireland, Peru, Mexico, Colorado or Wyoming? Check out the latest travel deals on dream riding vacations and dude ranches!

Featured Travel Deals
This month's featured deals give you bargains and special vacation discounts for Arizona and New York State horseback riding vacations.
Get off the grid at an Arizona Guest Ranch this Fall or Winter with these Travel Deals!
Special experiences and package discounts at Arizona Dude Ranch Association ranches.
The Arizona Dude Ranch Association offers guests a taste of the real Western lifestyle, with member ranches ranging from smaller remote properties, where riding is the main activity, to larger resort ranches with all the amenities. Check out these special experiences and travel deals at member ranches. For a full listing of deals, check out the Arizona Dude Ranch members' special offers page.
Circle Z Ranch in Patagonia, Arizona
Weekday Sneakaway Oct 26, 2014 - Jan 29, 2015
Includes a 5 day/4 night stay. Cost for the weekday special is $795 per adult, $465 per child 6-12 y/o, and $295 per child under the age of 6. (Christmas week and Thanksgiving week excluded ~ RSVP by October 26, 2014)

Pre-Holiday Getaway Nov 29- Dec 20, 2014
Come and rejuvenate before the busyness of the holidays. Trail riding in the spectacular Arizona countryside will clear your head, while the homegrown Circle Z hospitality will ensure all your needs are met. This special has no minimum stay, although a minimum three day stay is always ideal to fully enjoy all the amenities of Circle Z including riding on our countless trails, fabulous, fresh gourmet meals, lounging by the pool, and visiting with friends and family. Cost for this special is $185 per person per day, or $1295 for the week.
Lone Star Long Weekend October 30, 2014 - February 1, 2015... Learn more and view more details.

Elkhorn Ranch near Tuscon, Arizona
Visit between November 30 – December 21, 2014 and enjoy the winter quiet rate that discounts about 5% off of the normal weekly rate

Add Creative Flair to your week at Elkhorn Ranch with one of the below Special Workshops
- East Meets West Adventure Vacation and Old-Time Music Jam … January 4 – 11, 2015
- Digital Photography & Natural History … January 18 – 25, 2015
- Horse Sketching – Breyer to Barnyard! … February 1 – 8, 2015
Learn more and view more deals.
Flying E Ranch in Wickenburg, Arizona
- "Bombproof Horsemanship Clinic" Featuring Chad Brinlee Nov 14 - 16, 2014
- December 20/20 Special at the Flying E Ranch- Enjoy a 20% discount the first 20 days of December!
- Flying E Ranch Christmas Celebration- Mention "AZDRA Equitrekking" Christmas Special and ride for free on Christmas Day!
- Masterson Method 2 day Clinic- Friday January 16 - Sunday January 18, 2015
- Cowgirl True Girlfriend Getaway Weekend Thursday March 5, 2015 - Sunday March 8, 2015
Visit the AZDRA website for more details.

White Stallion Ranch in Tucson, Arizona
- Talk to the Animals Nov 9- 16, 2014: Join Anna Twinney for an in-depth Animal Communication Week while staying one of the most exciting, legendary environments of the American Old West.
- December Special Nov 30-Dec 18, 2014: Treat yourself to these special discount packages available only during the beginning of December.
- Mini-December Special / Sunday, November 30th thru Wednesday, December 2nd, 2014: Discounted pre-holiday December pricing on a three night stay .
- Cactus Cowgirls Ride Again! January 18-25, 2015
- Cactus Cowgirls at Rodeo Time! Feb. 24 - March 1, 2015: Submerge yourself in the western spirit - this is rodeo week in Tucson!
- Cactus Cowgirls - Ultimate Wild West April 12 -April 17, 2015: There will be lots of riding with lessons, a variety of trail rides both fast and slow, team penning and a breakfast ride. The event gets started with our complimentary get-acquainted Margarita party... Learn more.
Check out the full details for these deals and more great discounts on the AZDRA Specials page.
B&B Ranch New York- 20% Off Any Horseback Vacation through the End of September!
Enjoy country Italian style hospitality in a farm setting on a B&B Ranch New York State Riding Vacation.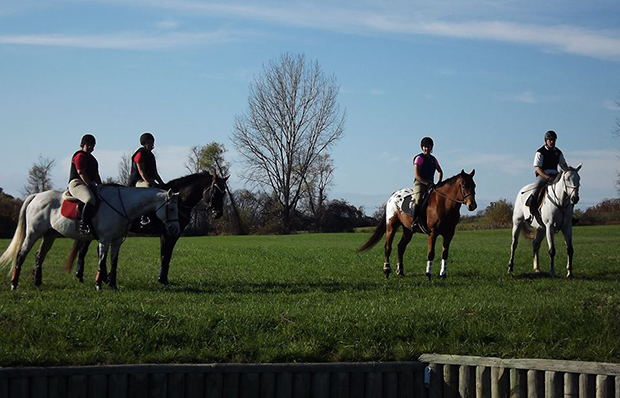 B & B Ranch in the heart of Central New York, just minutes from Cooperstown, offers exceptional accommodations and some of the most inviting country on the East Coast.

Use discount code "Equi20" to book now at 20% off any listed price. Space is very limited for July and August 2014, but September is as wide open as the Central New York sky.

Every room includes a three course breakfast and a magnificent five course dinner. Stays of three days get you a bottle of wine from the collection - and all guests are welcome to take to the trails or enjoy the swimming pool, sauna and Jacuzzi areas.

There's no better way to close out the summer, or to complement that long drive back to university.

B & B Ranch welcomes guests from all over the country to an inviting and relaxing weekend, and some of Central New York's finest Northern Italian cuisine.

Remember, use discount code "Equi20" to book now at 20% off any price listed on the website, or call 607-547-5272 and tell us where you saw us. 20% discount code is valid only through September 30, 2014, and subject to availability.
More Great Horseback Riding Vacation and Dude Ranch Vacation Travel Deals
---
Top Travel Deals!
Elkhorn Ranch in Arizona- Discounts for 2014/2015 Season
About 50 miles southwest of Tucson, Elkhorn Ranch is a longtime Arizona dude ranch nestled in secluded Sabino Canyon. This Arizona guest ranch offers unparalleled horseback riding and comfortable living for around 32 guests.

Visit between November 30 – December 21, 2014 and enjoy the winter quiet rate that discounts about 5% off of the normal weekly rate
Extended Stay- Relax and Ride!
Enjoy two week rate that discounts your visit about 5% off of the normal weekly rate, or three week rate that drops about 12% normal from the weekly rate.

Kids Stay Kids Through High School
No charge for children 5 and under, and 45% discount for kids 6-15 & 35% discount for teens 16-18 off of normal weekly rate … Elkhorn Ranch is a great Family Vacation Destination! There's still room at Thanksgiving, as well as some spring school holidays weeks! Give us a call to check availability!

Winter & spring 2015 workshop weeks include the following programs at no extra charge:
East Meets West Adventure Vacation & Old-Time Music Workshop January 4 - 11, 2015 with musical inspiration by rory macleod & sandol astrausky and bill burke
Digital Photography & Natural History January 18 - 25, 2015 guided by stewart aitchison & ann kramer
Horse Sketching – Breyer to Barnyard! February 1 - 8, 2015 led by ruthie stoner
For more information or to book a reservation, call at 520-822-1040. Email Mary. Visit Elkhorn Ranch's website.

Nestled in the secluded Taharua valley, Poronui is a luxury wilderness lodge where guests may enjoy fishing, hunting and horseback riding treks with top-notch accommodations, gourmet cuisine and fine wines. From September 1st to May 31st, bring your own horse or ride one of Poronui's on the Equestrain Explorer package: three nights share twin accommodation, two nights at Poronui Lodge and one night "Glamping" at Poronui's rustic-luxe Safari Camp, two days guided trekking, gourmet meals and more! Ride horses through native beech forest, manuka scrub, pine and eucalyptus forest and open grassland. Enjoy breath taking views of the Taharua Valley, Kaimanawa and Kaweka Ranges, and Mohaka River.
Enjoy all the comforts of home, gourmet meals and fine local wines. Go "Glamping" at Poronui's Safari Camp so you can get a taste of the early years in New Zealand - when immigrants settled in isolated wilderness beside wild rivers like the Mohaka and Taharua that run through Poronui.
Learn more by emailing Poronui or visiting Poronui's website.


Rancho Las Cascadas, Mexico- Autumn Special of 20% off for new bookings

Book between now and October 15th, 2014 to get 20% off. For this special, there are a variety of dates available, but it is only valid on new bookings and is not combinable with anyother offers.
Don't just visit the touristic places, immerse yourself into the Mexican culture. Choose from over 30 different rides of fast paced, relaxed, demanding or easy days in the saddle. This Mexico ranch's fantastic horses invite you to ride in this open sky country across extensive plains without fences or boundaries.
Discover Mexico and all it has to offer from one central place. Whether you're passionate about history and art, love shopping or just yearning for adventure, there is something for everyone. Enjoy a trip to Teotihuacan with the famous pyramids of the sun and the moon, to the beautiful colonial town of San Miguel de Allende or take a fully guided tour of Mexico City. Enjoy 333 days of sunshine a year with midday temperatures around 75ºF/22ºC. The climate is one of the most incredible features at this altitude. Arrive/Depart any day of the week and choose the length of your stay. Private transfer to the ranch. Any time of day or night any day of the week. That is where the 'custom tailored' begins.
Book this trip! Call + 52 155 1070 2080. Email Rancho Las Cascadas or learn more on Rancho Las Cascadas' website.

Rancho Las Cascadas, Mexico- Plan ahead! Book next year's vacation at this year's rates!
Confirm your booking at Rancho Las Cascadas before September 30th, 2014 and get next year's vacation at this year's rates! Only valid on new bookings. Not combinable with other offers.

Discover 'Mexico Magico' right from the heart of this beautiful country, located a central Mexican mountain plateau at 7,500 ft. bordered by three waterfalls (Las Cascadas) that give the ranch its name. Don't just visit the touristic places, immerse yourself into the Mexican culture.
Book this trip! Call + 52 155 1070 2080. Email Rancho Las Cascadas or learn more on Rancho Las Cascadas' website.

Limpopo Horse Safars- New! Fly in Directly from Johannesburg Airport
Now guests may fly in directly from JHB to Limpopo for only $530 USD* (320 GBP) return, when Limpopo has minimum numbers, making it just a one-hour flight rather than the 6 hour road trip to reach this remote and beautiful riding vacation destination.
Join Limpopo Horse Safaris, who we filmed with for Equitrekking, in the vast Mashatu Game Reserve in the Tuli Block of southeastern Botswana on a horseback safari. This is an area of great diversity, magnificent vistas, ancient civilizations, dramatic rock formations and wonderful wildlife viewing. Guests often see lion, cheetah, leopard, African wild dog, a multitude of plains game like zebra, wildebeest and giraffe, as well as over 350 species of birds.
Learn more and request an itinerary by emailing Louise or visiting Limpopo Horse Safaris website.
* Prices are based on the GBP, meaning US pricing is subject to changes in currency conversions.


Rancho Los Banos- Last Minute Green Summer/Early Fall at the Rancho Kick-Off Special
Enjoy the beautiful last days of our green summer, with its fantastic late-afternoon monsoon storms and its lush, green, wildflower-laden landscapes, and the first days of fall at the fantastic nightly rate of $145/guest based on double occupancy and for stays of four or more nights. Rate is all-inclusive and applies to bookings made between September 6th and October 5th. Visit one of the prettiest times of year to stay at the Rancho.
Rancho Los Baños is a private 30,000 acre adventure guest ranch and working cattle ranch located at the foot of the Sierra Madre, the Mexican Rockies, just 55 miles south of the southeast Arizona town of Douglas in northeast Sonora, Mexico. This adventure guest ranch was recently honored with features in Men's Journal and The Guardian for its scenic nature and pristine wilderness enveloped by some of the most unique, inspiring, diverse and spectacular desert landscapes anywhere.

Learn more! Contact Manuel Valenzuela at (520) 955-2577 Emai Manuel Visit their website Rancho Los Baños on Equitrekking
Escape into the beauty of spring at Salamander Resort & Spa! Visit Middleburg, Virginia during this spectacular season and take part in the resort's endless activities and local events. Re-energize with spa treatments, a healthy meal or a horseback ride at this luxury equestrian resort in VA. Salamander offers a variety of vacation packages throughout the year, including the following:
Tally Ho Fox Hunting Package
Culinary & Wine Experiences
Bed & Breakfast Package
For You and Your Horse
For more information visit Salamander Resort & Spa's website.
Fall 2014 Travel Deals!
Bar W Guest Ranch, Montana- 20% off for 10th Anniversary Special
Bar W Guest Ranch is running a 10th Anniversary Season Special. The ranch is offering 20% off for guests that book a package for the last two weeks of their season, October 12th-31st. They are also waving their minimum night stay and required check in dates.
The Bar W is a year round guest ranch located on Spencer Lake in Whitefish, Montana. Guests can get a true western experience- horseback riding, working cattle, square dancing, wagon rides, hiking, mountain biking, and telling stories at the campfire.
Book this trip! Call 866-828-2900 or 406-863-9099. Email Bar W or learn more on Bar W's website.
Kindred Spirits- Shamanic Healing Retreat with Horses & People - Early Bird Special til September 30th: %10 discount
November 21 – 28th, 2014 Kindred Spirits is offering a 7 Day Retreat & Clinic with Marijke van de Water on the Caribbean coast of Costa Rica. Take advantage of a special discount of 10%!
Book this trip! Learn more at Kindred Spirits' website. Email Kindred Spirits. Tell them you saw it on Equitrekking.

Cortijo Uribe- Join a Dressage Clinic in Spain from Oct through Feb
Over the winter months Cortijo Uribe runs tailor made Dressage Clinics with Instructor Antonio Camacho. These special equestrian clinics are catered to riders who wish to have lessons to improve riding or specifically to master Dressage or Advanced learning.
Over 5- 7 days within the Dressage Vacations, equestrians will develop an individual program to build confidence and challenge their dressage riding skills, while being coached to become a more intuitive horse rider. Through a series of semi private or private lessons each morning, you will get the chance to review a video of your techniques, followed by an afternoon session to target problem areas.
October 12-19th, 2014
November 9-16th, 2014
December 9-16th, 2014
January 11-18th, 2015
February 8-15th, 2015

TREC, Advanced learning lessons and other riding holidays are available throughout the year, with specific clinic dates to be announced. Cortijo Uribe offers Spanish, luxury horseback riding vacations located in Andalucia within an hour of Malaga and Granada.
Learn more and book your trip! Call Chirstine at 0034 68123753 or email Christine. Visit Cortijo Uribe's website.

Ride Utah's Canyonlands with Hondoo Rivers & Trails- 15% for special Oct 13th departure
End of year special! Trips to the San Rafael Swell departing October 13th, are eligible for a 15% discount!!!! Book now since the last few slots of 2014 are filling up fast!
Hondoo outfits a full schedule of small group, multi-day horseback riding adventures featuring camping or inn lodging through Utah's Canyonlands and National Parks. Hondoo also arranges custom day or multi-day backcountry trips which afford you the opportunity to travel by vehicle, horse, raft, or/and foot. Hondoo takes great pride in our tradition of providing personalized service for those interested in exploring the backcountry of the Colorado Plateau.

Book early to assure your place! Call Pat at 800-332-2696 or email Pat. Visit Hondoo's website. Mention you saw this on Equitrekking for discounted rate.

Grab your girlfriend, mom, grandmother, sister, or daughter to join you for this 2 night horseback riding and relaxation getaway to Vermont. It's a great deal! Take a short break from the daily routine and reward yourself with the opportunity to delight in the magnificence of Vermont's Green Mountains while on horseback; and to relax and reconnect.
The 'Giddy-Up & Go' Getaway includes: Overnight accommodations for two nights (double occupancy), Country breakfast served on the Terrace each morning, One hour scenic trail ride per person through some of Vermont's most picturesque trails, One hour relaxation massage for each person, Use of our private beach, kayaks, canoes, outdoor pool, hot tub, fitness center, afternoon refreshments and more.
Rates start at $550 for two in a Classic Lodge Room or $795 for two in a Luxury Room. 'Giddy-Up and Go' Getaway is valid Sunday – Thursday through October.
**During the month of June any additional trail rides will be offered at a 25% discount. Availability is limited. Horseback riding must be booked in advance of your arrival.
For reservations or more information call 802-483-2311. Email Mountain Top Inn. Visit Mountain Top's website.

Rancho Lobo Gris- 10% discount at Rancho Lobo Gris in the Dominican Republic OR Grey Wolf Ranch in Allons, Tennessee
Blessed Horses! Did you know that Rancho Lobo Gris has just won the Trip Advisor award of excellence? Come and visit us in the phenomenal Caribbean setting of the Dominican Republic, and find out why we are voted on of the BEST excursions in the Dominican Republic! Rancho Lobo Gris is sure to delight people of all ages and riding skill! Equine vacations are the best way to relax and have a retreat for self, family and friends! Spend a day riding with us or several nights in our Cabana to take advantage of our all-inclusive meal offer for full day rides and overnight stays. We are not another boring head to tail ride, we want you to learn and love horses with the same passion we do…on and off the horse! Rancho Lobo Gris has also just opened a new American ranch called: Grey Wolf Ranch located in Allons Tennessee, next to Dale Hollow Lake.

As a personal invitation to followers of Equitrekking, call us about either ranch and when you mention this ad at the time of your booking, we will give you a 10% discount at EITHER ranch!
Visit us online at: www.rancholobogris.com for the Dominican Republic, or www.greywolfranchtn.com. Book today by calling us at: 931-462-RIDE (7433).

Great American Adventures- Mention "Equitrekking" and get $200 off on trips taken in 2014.*
"Ride Where Legends Rode" as you embark on Great American Adventures' award-winning four and five-day riding tours of the historic Old West, located at various historic sites. PLUS, mention "Equitrekking" and get $200 off on trips taken in 2014.*

Join Billy the Kid's Regulator Ride: October 5 - 10, 2014 in Lincoln, New Mexico Territory. Join Wyatt Earp's Vendetta Ride: October 12 - 17, 2014 in the Tombstone, Arizona Territory. Join John Wayne's Monument Valley Ride: November 3 - 7, 2014 in the Monument Valley, Arizona Territory.
* Restrictions: Available to new bookings only. Must mention "Equitrekking" at the time of your booking to receive this discount.
Learn more on Great American Adventures website. Email Steve. Call 505-286-4585.
Tsylos Park Lodge- British Columbia, Canada Fall Riding Vacations & Pack Trips
Join Tsylos Park Lodge for a horse riding vacation and put some beauty and adventure into your life! Tsylos Park Lodge offers wilderness Mountain Pack Trips and Lodge Horseback Riding Vacations offering you the freedom and adventure to horseback ride for miles,no fences! Just wide open spaces and amazing landscapes. Enjoy a wilderness horse pack trip in pristine wilderness or ride stunning trails from the lodge and return each day to icy cold drinks, a wonderful evening meal, and a relaxing soak in the hot tub viewing a million stars. Non-riding companions may enjoy fly-fishing, wildlife photography, canoeing, kayaking and more. Prices start at $2395 for 7 night adventures.
Learn more and view the brochure! Call Karen Toll-Free: 1.800.487.9567 or 1.250.483.4368. Email Karen. Visit Tsylos website.
Moore Ranch, Kansas- Fall Longhorn Cattle Drive October 8-10, 2014
Fall Cattle Drive–– October 8-10, 2014. Drive the longhorn cows about 35 miles from the ranch to winter pasture. A chuckwagon will accompany the ride and you'll sleep under the stars or in cowboy teepees. Vacation Cost: $825
Book this ranch trip! Email Nancy or call 620-826-3649. Learn more on Moore Ranch's website. Mention Equitrekking to receive the discount.
One week treks from September 1st through to end of November at only $1500 per person–– lodging, food, treks & tours all included! Air flights with Spirit Airlines starting at less than $300 return flights from the United States! For under $2000 you can enjoy a 1 week vacation on horseback through the tropical jungle of Costa Rica and along its magnificent untouched beaches.
Book this trip! Learn more at Kindred Spirits' website. Email Kindred Spirits. Tell them you saw it on Equitrekking.
Kindred Spirits- Yoga Horse Retreats in Costa Rica!
Yoga & Horses 7 Day Retreats Schedule 2014
October 27 – November 3rd, 2014
$2000 per person: lodging, meals & yoga clinic with horses all included. (for a private room single person a $250 suppl.)
Yoga in Harmony 2 Day 3 Night Retreat
October 27 -30,2014
$565 (for a private room single person a $150 suppl.)
If you would like to have a private Yoga Horse Retreat at different dates, please Email Kindred Spirits. Learn more on Kindred Spirits' website.

Harris Horses- Riding Holidays & Intensive Training in France from Sept- Nov and Feb- May
These riding holidays with Harris Horses are aimed at more serious riders who want to work at improving their skills as well as enjoying a relaxing break in the stunning Bordeaux wine region of South-West France. This area is one of the most famous Wine regions in the World, and people come from all over the world see the amazing Chateaux and taste the wines. Offered during February – May and September – November, when the weather is more temperate, riding consists of 2 sessions of intensive training with Johnny or Jackie Harris – approx 1 hour per session. This will be individual or shared with 1 other rider of similar ability.
Learn more by visiting Harris Horses website, emailing Jackie or calling +33(0)787864964.

Julie Goodnight Horse & Yoga Clinic for Women at C Lazy U
• October 24-27, 2014
C Lazy U, in cooperation with Julie Goodnight, have put together a Riding and Yoga Retreat for Women (May and October dates) and a Ranch Riding Adventure for adult riders of all levels (September). Take advantage of discounted rates for world-class accommodations with programming, riding, and yoga included. Some participants will bring their own horses and others will use one of the great horses at the ranch.
The clinic sessions are fun and productive with all riders and horses working at their own pace. Julie is there to make sure you have a good time, stay safe and learn something. She is really good at putting everyone at ease and making you feel confident. From Julie's point of view, she is there for you—not the other way around. It's not about egos or impressing people, it's about you and your horse and making what progress you can while you have a great time in an incredible setting.
Prices start at $1075 plus tax and service charge. To register, contact C Lazy U today at (970) 887-5901. Email C Lazy U. Visit the C Lazy U website.

Shangrila Guest Ranch, Virginia- Cowgirls Retreat Week Oct 5th- 10th, 2014
Ladies, come join us at Shangrila Guest Ranch for a 5 night / 4 day cowgirl get-a-way! Enjoy horseback riding, wine tasting, shooting, archery, wagon ride, fishing and relaxing massage included in your all-inclusive vacation package. Shangrila Guest Ranch is located 1 hour North of Raleigh, NC.
Cost: $1,150/person and Groups of 4 ladies or more: Receive 15% off per person!
Learn more by visiting Shangrila's website, calling 434-517-0888 or emailing Shangrila Guest Ranch.

Enchantment Equitreks, New Mexico Balloon Fiesta Ride Oct 5-12, 2014
$3000/per person includes 8 days, 7 nights, 4 days riding, 1 day Santa Fe, 1 day at the Albuquerque International Balloon Fiesta.

During this week we ride under a blue sky filled with a kaleidoscope of hot air balloons. We take a day to visit the fiesta where clients will learn all about hot air balloons, get the chance to walk amongst the billowing beasts and visit the many booths and vendors.
Book this trip! Call 575-430-7514 Email Justyn. Visit Enchantment Equitreks website. Tell them you saw it on Equitrekking.

Alisal Guest Ranch, Califonia- Couples Bootcamp Oct 16-19, 2014
Treat your "better half" to a first-class Alisal adventure filled with thrills and pampered pleasures. Tucked away in the Santa Barbara wine country, enjoy our 10,000-acre cattle ranch complete with equestrian center and 100 quarter horses.
All meals are included as is recreation on two 18-hole golf courses, 100-acre lake, tennis and more. Package Includes–– Studio accommodation for four days, three nights; Daily horseback rides and a Breakfast Ride to the historic old Adobe; Rodeo instruction; Nightly entertainment; Breakfast, gourmet box lunch and dinner daily; Gourmet wine dinner and special lakeside dinner; Moonlight hay ride; Romantic turn-down amenities; Taxes and service charges
Package Price $2,650.00 per couple and Dates October 16-19, 2014
Book this trip! Learn more about what is included in this package at The Alisal Guest Ranch website. Call (800) 4-ALISAL or (805) 688-6411. Contact Reservations.

Bar W Guest Ranch, Montana- Photography Week Oct 5 - 11, 2014
Join the Bar W this October for a photography vacation of a lifetime. Catering to amateurs and professional photographers, the Bar W is offering an all inclusive photography week - complete with a professional coach.

This full week of unparalleled photo opportunities, both on and off the ranch, blend in the splendor and beauty of Montana nature as well as the wildlife provided by the Triple D Game Farm. Triple D's facilities include over 120 exotic animals typically including mountain lions, grizzly bears, wolves, and a variety of young cats. Shoots are organized so that you will be situated 2 to 10 feet away – truly amazing. The week includes a herd of running horses, Glacier National Park, cowboys and cowgirls in full regalia, fly fishing scenes, action, and still shots.

After a full day of photography, relax with our informal cocktail hour by the fire. Or, loosen up in our hot tub before a homemade dinner you will not soon forget. So grab your camera and prepare to be awed!

The Bar W is a year round guest ranch located on Spencer Lake in Whitefish, Montana. Guests can get a true western experience- horseback riding, working cattle, square dancing, wagon rides, hiking, mountain biking, and telling stories at the campfire. Sit back and let Montana surround you. Time will run a little slower, things seem a little easier, and everyday feels like Saturday.

Book this trip! Call 866-828-2900 or 406-863-9099. Email Bar W or learn more on Bar W's website.


Winter 2014/ 2015 Travel Deals!

Eatons' Ranch, Wyoming- Bighorn Mountains Bed and Breakfast is a Winter Getaway
Eatons' Ranch is no longer just a summer destination. During the winter, Eatons' Bighorn Mountains Bed and Breakfast offers the perfect getaway or staycation. Spend a night or two enjoying the peace and tranquility of a winter's day at the bottom of Wolf Creek canyon. Relax in comfortable cabins after exploring the Ranch along our numerous hiking trails. This guest ranch is also an easy drive away from snowmobiling and cross country skiing in the Bighorn National Forest.
Rates at Eatons' Bighorn Mountains B&B include lodging and breakfast the following morning. The restaurant is open for dinner for an additional charge Thursday through Saturday. Arrangements for our B&B and dining can be made Monday through Friday 9am-4pm.
Learn more about Eatons' Ranch. Call 307-655-9285 or 800-210-1049. Email Eaton's Ranch.
Various Dates Throughout 2014

Visit this 17th Century Luxury Eco-farm located 2 hours from Quito, Ecuador's capital city. Hacienda Zuleta has been recognized by National Geographic, Conde Nast Traveler and dozens of other publications as one of the most exciting and authentic places to visit in South America.

Specials in 2014! Infants up to 3 years stay free • Children up to 12 years of age cost 50% of the rate • Extended stays (4-6 nights) 5% discount • Week stays (6 or more nights) 10% discount • Family & Friends (5-10 members) 5% discount • Groups (more than 10 members) 5% discount
For more information or to book a reservation, Email Hacienda Zuleta. Visit Hacienda Zuleta's website.

Castellare di Tonda Resort & Spa riding holidays in Tuscany, Italy are unique due to the quality of their horses, facilities, riding and experienced, friendly staff. Riding vacations have been designed to include a variety of landscapes; shady Mediterranean forests, rolling golden grain fields, vineyards and olive groves. Stop for a gelato while you ride through a cobblestoned medieval village. Visit ancient castle ruins in the middle of a forest still inhabited by wolves and wild boar, and enjoy taking your horse for paddle in the water of the estates own private lake.
During this week long horse riding package revitalize your spirit with a week of daily excursions horse riding in the Chianti countryside of Tuscany during the spring. Ride to San Vivaldo Monastery, Balconavisi hilltop village, Ghizzano and Pinocchio's house, Castelfalfi, an ancient cattle farm near Toiano, through the forest trails of the Carfalo national park, The Tonda estate... Enjoy seven nights accommodation; half board; picnic lunch on three days; wine with dinner; riding as per program; return shared transfers from Pisa airport, Florence airport or Castelfiorentino station (at set times); tourist tax; twice weekly apartment cleaning.
Prices for 2014 start at $1,628 USD* (1188 Euros). Learn more about the Intrepid Tuscany Riding Holiday. *Prices based on the Euro and subject to changes based on currency fluctuations.
Book this trip! Learn more about a variety of Tuscany riding holidays on the Castellare di Tonda website or by emailing Jess.

Castellare di Tonda- Photography Workshop with Christiane Slawik
Award winning German photographer Christiane Slawik visits Castellare di Tonda for another week of intensive theoretical and practical instruction in equine photography. Step by step, Christiane shares her professional knowledge and tricks for taking amazing photographs of beautiful horses. See how a professional develops surprising images out of nothing. Get involved into the creative process of planning and preparing a perfect shot. Christiane gives you ideas, how to make each location special and how to have every single horse looking at its best.

Before photos are taken in portraits, liberty and riding, Christiane will discuss everything about each location, the horses and their individual tack or behavior. During the photoshoot, she will assist you and answer all your questions. The results of the shootings will be discussed in the group every evening at our restaurant and every participant will get copies of the shots taken throughout the day.

With her tremendous knowledge and experience, Christiane will inspire and motivate you more then you can imagine. After these workshops you'll see horses, riders and stables from a different angle. No more snapshots! You'll start taking photographs. Price per person: $1534 USD* (1120 Euros) *Prices based on the Euro and subject to changes based on currency fluctuations.
Book this trip! Learn more about a variety of Tuscany riding holidays on the Castellare di Tonda website or by emailing Jess.
Rancho de los Caballeros is a historic guest ranch, located about an hour away from Phoenix, situated on 20,000 acres of high Sonoran Desert. The Ranch Experience package is ideal for those who wish to pick and choose their Western activities for a more personal vacation. Package includes: Luxurious casita accommodations, Breakfast, lunch & dinner daily, Ranch Credit of $120.00* per night stay, per person to be used towards activities (golf, spa, horseback riding or trap and skeet shooting) or dining. Access to all scheduled free ranch activities (tennis, nature hike or lecture, bird-watching tour, Hassayampa River Preserve tour)
Rates start at $620/night at double occupancy. Extra person, extra nights and single rates are available. Requires a 3 night minimum stay.
Package pricing does not include 7.3% tax and 15% gratuity in lieu of tipping.
*Activity allowance can only be applied to green fees with cart, scheduled horseback riding, skeet shooting, or spa service (excluding gratuities). Credit has no cash value.
Book this trip or learn more by emailing Rancho de los Caballeros. Calling 800-684-5030. Visit Rancho de los Caballeros website.

During select times of the year, the Alisal offers a special "Round-Up Vacation" Package. Golf, horseback riding on regularly scheduled two-hour rides, access to the Fitness Center and Spa, tennis and fishing are included in the regular price of the room. This package applies to only two people per room and is non-transferable.
The Round-Up Vacation Package is offered on stays of two or more consecutive nights, Sunday through Thursday from September - May. It is also offered on weekends from November through March. Holiday and summer restrictions apply. Inclusive activities begin at 1:00 pm on the day of arrival and end at 12:00 noon on the day of departure. Golf carts, boats, lessons, classes and guides are not included.
Book this trip! Learn more about what is included in this package at The Alisal Guest Ranch website. Call (800) 4-ALISAL or (805) 688-6411. Contact Reservations.
Castle Leslie - 3 or 5 days Horse Sport Package
The Castle Leslie Estate in Ireland offers an idyllic setting for outdoor activity and adventure. It is the perfect place to discover the thrill of exploring the beautiful Irish countryside on horseback. We welcome riders of all ability and offer expert tuition, gentle hacks and exhilarating cross-country rides. The Equestrian Centre combines the authentic charm of a country estate with all the amenities you'd expect from one of Ireland's best horse-riding locations. As one of Europe's finest equestrian playgrounds, Castle Leslie Estate offers memorable horse riding holiday experiences for riding enthusiasts of all levels. So whether you're a beginner or an experienced rider, Castle Leslie Estate is the place for you.

Contact: Email Castle Leslie. Call +353 (0) 47 88 100 Visit Castle Leslie website.


Castle Leslie - 3 or 5 days Happy Hackers Equestrian Vacation Package
Happy Hackers is for anyone who enjoys the simple pleasure of exploring the countryside on horseback. This package involves daily estate riding. This is a 3 or a 5 day programme, 3 hours riding per day, 3 or 5 nights bed & breakfast and a 2 course meal each evening in Conor's Bar. Activity will be part of a group session.

Contact: Email Castle Leslie. Call +353 (0) 47 88 100 Visit Castle Leslie website.

For the beginners or riders who wish to improve their riding skills whilst enjoying some gentle hacks around the Estate. Each rider will receive a series of lessons culminating in a 2 hour ride around the Estate. This is a 5 day programme, 3 hours riding per day, 5 nights bed & breakfast and a 2 course meal in Conor's Bar each evening. Activity will be part of a group.

Contact: Email Castle Leslie. Call +353 (0) 47 88 100 Visit Castle Leslie website.