Dude Ranch Vacation Deals & Specials on Horseback Riding Vacations!
We continually update the Equitrekking Travel Deals page and blast it out first in Equitrekking's free monthly e-newsletter. Sign up to get the best dude ranch vacation travel deals first. Enjoy discounts on riding holidays and bargains on cattle drives and riding vacations. Need more ideas? Search the Equitrekking Vacation Guide and Top20Ranches.com.
Featured Ranch Vacation Deals and Discounts on Horse Riding Vacations
Interested in taking a family ranch vacation, horse safari, cattle drive, all-inclusive trip or riding holiday in Ireland, Peru, Mexico, Colorado or Wyoming? Check out the latest travel deals on dream riding vacations and dude ranches!

Featured Travel Deals
This month's featured deals give you bargains and special vacation discounts for ranch and horseback riding vacations.
Rancho Los Banos- Last Minute Green Summer Special
Visit Rancho Los Banos during the month of September at at nightly, all-inclusive rate of $185 per guest!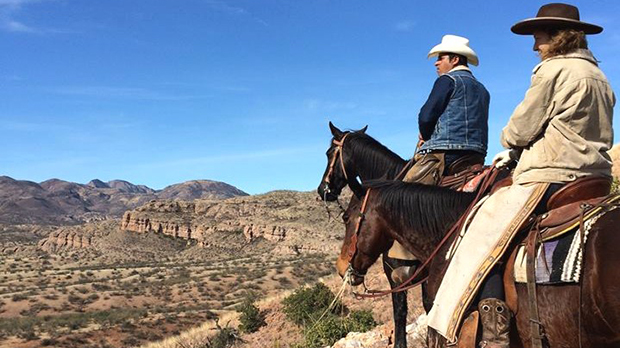 Visit Rancho Los Banos during our beautiful "Second Spring" month of September at at nightly, all-inclusive rate of $185 per guest. Great riding, fantastic wildflowers and lush, green landscapes and colors, with beautiful temperatures and weather and incredible scenery combine for a great vacation. All meals, transfer from Tucson, incredible horses and riding, Mexican hospitality and a desert unlike you have ever experienced combine for a fantastic stay with us. Based on double occupancy and stays of five or more nights. Take advantage of a great deal to stay at one of the world's best riding ranches.
Learn more! Contact Manuel Valenzuela at (520) 955-2577 Emai Manuel Visit Rancho Los Banos' website.

Rancho Chilamate- Free Massage with 2 night reservation now through October 31, 2015.
Free Massage with 2 night reservation now through October 31, 2015.
Horseback Riding in Nicaragua is a great way to get up close and personal with this beautiful country. Join Rancho Chilamate for some eco-friendly fun while exploring rural Nicaragua and the spectacular local beaches. These horseback tours have been voted #1 on TripAdvisor for years and proudly, a portion of every ride goes to our fund to benefit those living in the community.

There's something beautiful about taking the time for yourself while on vacation. And after getting out of the saddle at the ranch ~ we think the perfect accompaniment is a great massage.

With a 2 night reservation made between now and October 31st, 2015, Rancho Chilamate will gift you a 1 hour post ride full body massage here at the ranch. Massages are provided in house by Amanda of Energy Touch Massage , a U.S. Board Certified Massage Therapist and Bodyworker.

Please book your massage when you make your reservation ~ so Rancho Chilamate can make the appropriate arrangements.*

Learn more! Email Heather. View more about this deal.

* Offer valid now through 10/31/15 and based on availability. Offer is for a one hour massage for a minimum 2 night stay at Rancho Chilamate ~ double occupancy. Specific times and dates may not be available. This offer is not redeemable for cash.
More Great Horseback Riding Vacation and Dude Ranch Vacation Travel Deals
---
Top Travel Deals!

Geronimo Trail Guest Ranch- Trail Riding, Western Adventure, History and Unforgettable Scenery
Join Geronimo Trail Guest Ranch for a riding vacation in October or early November and enjoy our beautiful fall weather, or book for spring, summer or fall next year! Enjoy scenic beauty in the mountains of the breathtaking, untouched Gila National Forest in SW New Mexico. See the land Geronimo was born and grew up in. Discover 1,000 year old Mimbres cliff dwellings and pictographs. From atop your well-trained horse watch abundant herds of elk, as well as mule deer, and javelina. Come enjoy the warm hospitality, delicious food and extraordinary peacefulness the Geronimo Trail Guest Ranch offers. Open March through mid-November.

Learn more or make a reservation by emailing Meris or calling (575)-772-5157; or visit Geronimo Trail Guest Ranch's website.

Enchantment Equitreks- Balloon Fiesta Ride- First week in October 2015
During this unique adventure, riders will be in the saddle as they watch the sky fill with hundreds of hot air balloons during the Albuquerque International Balloon Fiesta in New Mexico.This year's popular Balloon Fiesta Riding Vacation runs the first week in October for 8 days, 7 nights with 4 days riding, 1 day at Balloon Fiesta, 1day in Santa Fe. Cost is $3,000 per person. All inclusive: lodging, meals, transportation, entrance fee to the Fiesta and certain museums in Santa Fe.
Find out more by calling 575-430-7514. Email Justyn. Visit Enchantment Equitreks Website

The yoga retreat are for those who are looking to escape and relax. Time will be spent with yoga sessions aimed at stretching sore muscles from riding and long soaks in the outdoor spa. The retreats are 5 days long at $1,500 per person, or 8 days long for $2.800.
Find out more by calling 575-430-7514. Email Justyn. Visit Enchantment Equitreks Website


Rancho Las Cascadas- Mexico Lindo Riding Vacation 7 days / 6 nights – Every week… ask for dates!
Visitors from around the world travel to Rancho Las Cascadas to experience Mexico's true colors through exceptional horseback riding and cultural adventures accented by comfortable accommodations, great amenities, fine food and friendly service. This is an ongoing progressive ride catered to your riding level. The horses come back at night, but each day takes you through different regions, picturesque villages and ever-changing countryside. Ideal for riders who like progressive riding with the chance to have a break if they feel like it.
Contact us today and mention "Equitrekking". Learn more on the Rancho website or by calling + 52 155 18 01 01 01.
More Great Travel Deals!

Circle Z Ranch, Arizona- Pre-Holiday 20% rate reduction
The Circle Z Ranch is the oldest continually operating ranch in Arizona, open during the delightful winter and spring months of November through April. Our Pre-Holiday Rejuvenation special is a chance for you to experience what others are talking about, at a 20% rate reduction. This offer is good for a Sunday to Sunday, or Sunday to Thursday stay between the dates of November 29th and December 19th, 2015. Stay in one of our standard rooms for $1316 for a Sunday to Sunday stay, or $880 for our Sunday to Thursday ranch sampler.

Offer includes: All meals Horseback riding Lodging Nature program. Use of all facilities, including Tennis, swimming pool, game room.

Upgrades to larger suites or cottages will be at an increased rate, based on the type of accommodation chosen. This offer does not include a 15% service charge and a 6.6% sales tax.

To book your vacation, email Circle Z Ranch or call 1-888-854-2525. You can visit Circle Z's website for more information.

Circle Z Ranch, Arizona- Adult Only Ranch Special 10% Off January 2016
The Circle Z Ranch, the oldest continually operating guest ranch in Arizona, is open for guests during the delightful winter and spring months of November through April. We are offering an Adult Only Ranch Special as a chance for you to experience what others are talking about, at a 10% rate reduction. This offer is good for a Sunday to Sunday stay at $1480.50 or a Sunday to Thursday ranch sampler for $990, and good for the dates of January 3rd, 2016, to January 23rd, 2016. This price is based on a stay in one of our standard rooms.

Offer includes: All meals Horseback riding Lodging Nature program
Use of all facilities, including Tennis, swimming pool, game room

Upgrades to larger suites or cottages will be at an increased rate, based on the type of accommodation chosen. This offer does not include a 15% service charge and a 6.6% sales tax.

To book your vacation, email Circle Z Ranch or call 1-888-854-2525. You can visit Circle Z's website for more information.

Colorado Cattle Company is offering a "Hot Fall Special." Run of the house, so no charge for larger rooms, first come, first served, $500.00 off our lowest rate of $2,199.00, so net rate of $1,699.00 per person for all-inclusive, six night stay. Must be a Sunday arrival through Saturday departure.

Available for weeks of:
· 6 September to 12 September
· 13 September to 19 September
· 20 September to 26 September
· 27 September to 3 October
Colorado Cattle Company welcome all types of Cowboys and Cowgirls, from the timid beginners to the fearless veterans. We offer multiple levels or riding experience and can cater to your skill and comfort level. We have over 80 trained and well-mannered quarter horses, some calm for beginners while others are more high spirited. Our wranglers are professional cowboys and we have a 1-5 guest ratio.
Learn more by emailing Tom or calling (970)-437-5345 or visit the website.

Take a short break from the daily routine and reward yourself with the opportunity to delight in the magnificence of Vermont's Green Mountains while on horseback; and to relax and reconnect.
The Mountain Top Inn's 'Giddy-Up & Go' Getaway includes:
Overnight accommodations for two nights (double occupancy)
Country breakfast served on the Terrace each morning
One hour scenic trail ride per person through some of Vermont's most picturesque trails
One hour relaxation massage for each person; (Note we are unable to offer side-by-side massages.)
Use of our private beach, kayaks, canoes, outdoor pool, hot tub, fitness center, afternoon refreshments and more.
Tax and resort fee included
Rates start at $550 for two in a Classic Lodge Room or $795 for two in a Luxury Room.
'Giddy-Up and Go' Getaway is valid Sunday – Thursday during the months of June through October.
Note: A premium charge of $200 will be added during foliage season.
***Note that packages are not available Columbus Day Weekend.
**During the month of June any additional trail rides will be offered at a 25% discount.
Availability is limited. Horseback riding must be booked in advance of your arrival. Call 802.483.2311. Email the Mountain Top Inn. Visit the Mountain Top Inn's website.
The Mountain Top Inn's "Horseback Riding Vacation" starts at $1150 double occupancy; $850 single occupancy and includes the following:
• Three nights lodging in a Classic Lodge Room • Hearty Vermont breakfast each morning • Six (6) hours of guided trail rides per person*** • Tax and Resort charge • Use of the Resort's facilities including the private lake-front beach, hiking trails, kayaks, canoes, tennis court, swimming pool, hot tub, fitness center. • Massage therapy, yoga, disc golf, clay bird shooting, pontoon boat rides require an additional charge.

Save 20% off the package price if you arrive Sunday, Monday or Tuesday.

***Riding hours are NOT transferable; hours cannot be used by another guest. Please allow us two weeks notice when booking this package in order that we can arrange for the appropriate level of guides and horses.

Rates for other types of accommodations and longer stays for the above package: Classic Lodge: $1350 double occupancy and $1100 single occupancy for 4 nights; $1600 double occupancy and $1350 single occupancy for 5 nights. 1 Room Deluxe Custom Cabin: $1425 for 3 nights; $1745 for 4 nights and $1985 for 5 nights. Luxury Room: $1595 for 3 nights, $1895 for 4 nights and $2195 for 5 nights. A premium charge of $200 per package will be added during foliage season.

Packages are not available Columbus Day Weekend. Call 802.483.2311 to book! Email the Mountain Top Inn. Visit the Mountain Top Inn's website.
Tanque Verde Ranch, Arizona- Summer Sleepover Package now through September 20th
Tanque Verde Ranch is a ranch resort located in Tuscon, Arizona. This package includes use of the indoor and outdoor pools, tennis courts, pickle ball, sand volleyball and basketball courts. We are surrounded by 60,000 acres of the Saguaro National Park and have 645 acres of Tanque Verde Ranch land to explore as well. Salas $239/night* | Casitas $259/night*
deluxe lodging with breakfast daily
$50 food and beverage credit* (use at the Doghouse Saloon, Cowboy BBQ, or Main Dining Room)
ranch activities can be enjoyed ala carte

*Package requires a minimum of double-occupancy, and is based on limited availability for new reservations only. Rates may vary based on room type and dates selected. Package may not be combined with any other offers or specials and may be discontinued without notice. Not applicable to groups. Additional per-person rates apply for parties with more than 2 people. Food and beverage credit must be used during your stay. Rates subject to AZ state sales tax.
Advance reservations required. Learn more by calling (800) 234-3833 or emailing Tanque Verde or visiting Tanque Verde Ranch's website.

Bar W Guest Ranch, Montana- 10% off your end of summer stay from August 30 – September 18, 2015
Join the Bar W this September for a summer ranch vacation of a lifetime. Reserve your adventure at the Bar W between August 30th and September 18th and receive 10% off your total stay!
Beautiful vistas and rolling ridges adorn the countryside of this cozy Montana dude ranch. The Bar W Guest Ranch is a year-round ranch ready to treat you with true western Montana hospitality - from the moment you arrive until long after the sun sets. Nestled at the base of Spencer Mountain, between two pine-cover ridges, there are over three thousand beautiful acres available for horseback riding and outdoor activities.
The Bar W offers exceptional horseback riding in the mountainous wilderness surrounding the ranch, the peaks of the Stryker Range, and the open meadows of Swisher Lake. The Bar W Guest Ranch is a horseman's dream. Guests are invited to explore the entire property – hiking miles of trails, fishing on Spencer Lake, swimming, whitewater rafting, mountain biking, or relaxing with cocktail hour at the lodge hot tub. The Bar W is the complete package. It's a vacation where you'll never need to leave the ranch. Guests feel miles away from civilization and find it hard to believe they are just minutes from one of the most vibrant towns in Montana, Whitefish.

Only valid for 3 or 6 night packages booked between August 30th and September 18th, based on availability.
Learn more by calling 406-863-9099 or toll free at 866-828-2900 and emailing Bar W. Visit Bar W's website.
Siwash Lake Ranch- Quintessential Fall Ranch Experience
Once September starts and the kids have gone back to school, Siwash Lake Ranch in British Columbia's rugged heartland becomes a haven for couples seeking the perfect blend of romance, relaxation and adventure. Fall at Siwash beckons to travelers who are free to savour the season when the ranch is adult-oriented.
Horseback riding through golden aspen groves is the highlight. Yet, if riding isn't a passion, guests may hike through meadows strewn with fall flowers to mountain bluffs with panoramic vistas. And for avid fishermen, the backwaters around Siwash Lake Ranch are an angler's paradise.
In addition to an alluring array of wilderness activities, guests of Siwash Lake Ranch experience pasture-to-plate cuisine—food that is foraged from the woods nearby, grown on site, or sourced locally. Five-star chefs prepare it with flare, pairing with bottomless glasses of fine BC wines and champagne. Frontier accommodations amidst nature feature ranch house suites, a charming barn loft, or luxury canvas cabins—lavish safari tents on the Ridge at Siwash offering exquisite views of the surrounding wilderness.
Fall packages at Siwash Lake Ranch start at $2,385 USD per person for a three-night stay (plus applicable taxes and based on double occupancy) and include accommodation, food and beverages, alcohol, and choice of all activities. A la carte wellness services in the ranch's tented spa are available.
Learn more on Siwash Lake Ranch's website. Call 250-395-6541 or Email Siwash Lake Ranch.

Swan Mountain Outfitters, Montana- 25% off youth 16 years or younger attending with a parent
These riding trips launch from the Swan Valley which lies in the heart of the Rocky Mountains. Swan Mountain Outfitters offers 3, 5 and 6 day horse-pack/fishing trips into the famed Bob Marshall Wilderness (affectionately known as the "Bob"). What this means for you is you'll experience firsthand some of the most unspoiled natural wilderness settings imaginable.
Get 25% off youth 16 years or younger attending with a parent. Applicable on 3, 5 or 6 day pack trips into the famed Bob Marshall Wilderness. Limited to 1 child per family. Must meet minimum age requirement of 7 year old." Tell them you saw this on "Equitrekking" to get the discount! This is a limited time offer.

Learn more by visiting Swan Mountain Outfitters' website. Calling 406-387-4405 or Email Swan Mountain Outfitters.

Experience a rare opportunity to ride out among real wild horses and watch them in their natural habitat. This is not a ride out to a sanctuary, but a ride out to a real herd of truly wild horses in the rugged New Mexico landscape.

Your guide, Steve Simmons, has been tracking and photographing wild horses from horseback for many years (link to article) and his articles and images have been published numerous times. This group has been there for generations, and are truly experiencing the life of a wild horse. You may see stallions with their mares and foals, and groups of bachelor stallions scattered around the landscape. Rarely, but occasionally, you may see a battle between band leading stallion and a young upstart challenging the old stallion for his family.

These rides are only for experienced riders who can independently handle a horse in a rugged landscape under challenging conditions. There are not nose to tail rides. You can bring your own horse, or ride one of Steve's experienced Morgans. Learn more about this ride and riding with Steve in Photographing the Free Roaming Horse and Morgan Horses for Trail Riding.

For more info call 505-301-0917 or go to New Mexico Horse Adventures or e-mail Steve.
Sundance Trail Ranch, Colorado - Discounts for Active Military Personnel & Adult Only Weeks
Sundance Trail a northern Colorado guest ranch, borders Roosevelt National Forest and provides all inclusive family and adult only adventure vacations. It is a special place to take a break from technology - enjoy some mountain trails, delicious food and fun activities. Experience riding the trails through the forest with many scenic overlooks, or climbing some rocks. Coming to Sundance Trail will provide you with delightful memories that will last a lifetime.
20% discount is available for weeks of August 23rd and for the Adult only weeks August 30 and Sept 6th.
We also want to show our appreciation to active military personnel, by offering you a 15% discount whenever you come to visit.

Learn more by visiting Sundance Trail Guest Ranch's website or by calling 800-357-4930 or 970-224-1222 or emailing Sundance Trail Ranch.

"Cowboying on the Great Divide" is scheduled for this spring and fall hosted by the Bar W Guest Ranch. It's all about horses, cattle, great country, and you! At the Bar W, we have created a cattle drive adventure that rounds out all of the experiences of a cattle round-up. Having participated in traditional cattle drives, we wanted our guests to experience the "best of" what a cattle drive offers. We'll begin at the ranch with horsemanship lessons working with cattle, getting your seat and making sure you and your horse are a match. Then we head out to the Blackfeet reservation for the next four days to our base camp. Over this four day trip on 50,000 acres, you'll ride as far as you can see to gather up the cattle, drive them back to the corrals, sort the mother cows and calves, brand, inoculate, and doctor the young males. You'll feel like a real cowhand riding out for different herds – long horns one day, then cows and we may even go out for some bucking horses before heading back to the ranch. We'll round out the week with a ride to the Canadian Boarder -smooth beautiful country along Lake Koocanusa, to Stryker Peak or Krinklehorn territories - mountainous rides with steep climbs.
Prices for Double Occupancy range from $2,295.00 to $2,820 per person depending on the room you choose. Please call the ranch (866-828-2900) and ask for more details and our suggested clothing and equipment list.
Learn more by calling 406-863-9099, emailing Bar W and see what the Cattle Drive Package includes.
Ride Wyoming on great horses with the Wade family!

Enjoy an end of the Season Discount! $250 off any reservation made for openings in September! September 7-13 has 3 spots for advanced men or women riders, and September 17-23 has one opening for an advanced lady rider..

And remember, you will be riding with Mike or Bobbi Wade, the owners, on every ride, every day, so you are assured the experience and expertise of our 37+ years as professional guides and horsemen are shared throughout your horseback adventure.
Learn more by visiting Blue Sky Sage's website. Email Bobbi. Call 307-260-7990.
A historic Montana summer and winter guest ranch near Yellowstone, offering 4 to 7 night all-inclusive luxury dude ranch vacations with activities, cozy cabins, stunning scenery and incredible cuisine. This Montana Guest Ranch experience includes authentic ranch lodging, all meals, soft drinks, and snacks, a guided Yellowstone National Park tour, BBQ's and a trailride breakfast, guided horseback rides, hikes, mountain biking, canoeing, wagon rides, archery, yoga and more, an Outdoor Youth Adventures program, live music in the Saloon and transfers to and from Bozeman airport (on Saturdays only).

This favorite ranch vacation packake starts at $440 per night, Youth 4 -12 starting at $380, Children 0-3 $50 per night.
Learn more. Call 800-514-4644 or 406-995-4644 or email Lone Mountain. Visit Lone Mountain Ranch's website.
The Hideout Lodge & Guest Ranch is an all-inclusive upscale working cattle, riding, fly-fishing and adventure guest ranch in Shell, WY (east of Cody and Yellowstone National Park). This Equitrekking Top 20 Ranch offers a variety of activities for riders and non-riders, including trapshooting, archery, canoeing, hiking, biking, 4x4 tours and more.
Limited to approximately 25 guests per week from all over the world, the owners and management are actively involved with the well-being of guests, providing the highest standards of culinary experience, lodging, staff, horses and personal attention.
Every year The Hideout books up long before the start of the season, mostly because of word of mouth and returning guests. As the ranch does not plan to increase the number of guests per week, please book your vacation long ahead of the season.
Learn more. Email The Hideout or call 800-354-8637 or 307-765-2080.
Nestled in the secluded Taharua valley, Poronui is a luxury wilderness lodge where guests may enjoy fishing, hunting and horseback riding treks with top-notch accommodations, gourmet cuisine and fine wines. From September 1st to May 31st, bring your own horse or ride one of Poronui's on the Equestrain Explorer package: three nights share twin accommodation, two nights at Poronui Lodge and one night "Glamping" at Poronui's rustic-luxe Safari Camp, two days guided trekking, gourmet meals and more! Ride horses through native beech forest, manuka scrub, pine and eucalyptus forest and open grassland. Enjoy breath taking views of the Taharua Valley, Kaimanawa and Kaweka Ranges, and Mohaka River.
Enjoy all the comforts of home, gourmet meals and fine local wines. Go "Glamping" at Poronui's Safari Camp so you can get a taste of the early years in New Zealand - when immigrants settled in isolated wilderness beside wild rivers like the Mohaka and Taharua that run through Poronui.
Learn more by emailing Poronui or visiting Poronui's website.

Marble Mountain Guest Ranch, California- Active Military and Police Officers Discount
This Northern California guest ranch in Somes Bar offers primary family members of Peace Officers and Active Military a 10% discount from regular pricing on any of the ranch's offerings. Pick from your choice of Guest Ranch Vacations inlcuding the prime season saddle / paddle vacations, shoulder season short stays, or even Fall season stealhead fly fishing packages.
"We appreciate the service you offer, and wish to give back as we are able. If you are a wounded vet, you may call us privately about a personalized pricing program (1-800-552-6284)!"
Learn more about Marble Mountain Ranch. Emal Marble Mountain Ranch.
Stone Horse Expeditions in Mongolia- Discount for Groups and Couples–– 10% off for 3 or more people booking together and 5% off for 2 people booking together. Return Guests get 10% off!
Return Guests- 10% off
Anyone returning to take part in another horseback riding expedition with us gets an automatic 10% discount off the current price. A $240.00 to $420.00 savings depending on the trip booked. No time limit on that, so think about it. If you liked the horse riding in Mongolia, come join us again, we'd love to have you back. And tell your friends about us.

Referrals from former Stone Horse guests- 5% off
This is for anyone who contacts us to join a horseback riding trip and was referred to us by a former Stone Horse guest. Let us know who told you about us and when they came with us and we'll give you an automatic 5% discount off the price of a trip. A $120.00 to $210.00 savings depending on the trip booked. So, if you've heard about Stone Horse and the trips we do, don't hesitate, join us in 2015.

Check out the 2015 Expedition Schedule for Gorkhi-Terelj National Park and Khentii Mountains Expeditions. Stone Horse has eight different trips lined up beginning in mid June and running through mid October, from the wildflowers of summer to the brilliant colors of autumn.

Hondoo Rivers & Trails, Utah- 10% discount for groups, couples, or multi-ride bookings.
You may have seen Pat Kearney of Hondoo Rivers & Trails on Equitrekking's Utah episode! She has been exploring Utah on horseback for over 30 years. Join Pat to ride in Utah's red rock canyonlands surrounding Capitol Reef National Park! Choose from camping trails rides or inn-to-inn horseback riding vacations.

10% discount for groups, couples, or multi-ride bookings if you mention Equitrekking.
Learn more at Hondoo's website. Email Pat or call 800-332-2696.

Shangrila Guest Ranch, Virginia- Cowgirls Retreat Week: October 4-9, 2015
Ladies, come join us at Shangrila Guest Ranch for a 5 night / 4 day cowgirl get-a-way! Enjoy horseback riding, wine tasting, shooting, archery, wagon ride, fishing and relaxing massage included in your all-inclusive vacation package.

Cost: $1,150/person

**Groups of 4 ladies or more: Receive 15% off per person!!**
Learn more by visiting Shangrila Guest Ranch's website. Emailing Shangrila Guest Ranch or calling 434-517-0888.

Eatons' Ranch, Wyoming- Fall Special Rates from now through Sept 30th, 2015
Eatons' Ranch is not just a summer destination. During the fall, Eatons' Ranch offers discounted rates from now through Sept 30th. Rates range from $210 – $250 per night for each person 18 years and over and $195 per night for each person 17 years and under. There is no charge for children 5 years and under.

Yellowstone Park is only half a day's drive away from Eatons' Ranch. Battle of the Little Bighorn National Monument, Fort Phil Kearny, Fetterman Massacre site, battlegrounds of the Wagon Box Fight, Tongue River Canyon, Bradford Brinton Memorial, the Whitney Gallery of Western Art and the Buffalo Bill Museum in Cody are all within easy driving distance as well.

*Sales tax (at 6%) not included above.
Learn more about Eatons' Ranch Fall Special Rates. Call 307-655-9285 or 800-210-1049. Email Eaton's Ranch.
Clew Bay Trail Ride in Ireland- 10% discount on all Clew Bay Trail Riding Vacations up to October 11th if booked before the end of August, 2015
The Clew Bay Trail Ride takes small groups of experienced riders on quality Irish horses through the spectacular Clew Bay region along Ireland's Wild Atlantic Way. Join a 3 or 6-day trail riding vacation through the ever-changing landscapes of small villages, breathtaking sandy beaches, sea and off-shore islands, country lanes, mountain tracks and local heritage sites, stopping for a picnic along the way.

Book this trip or learn more by emailing Padraic. Visit the Clew Bay website. Call 00 353 98 25616.

Don't come alone! — DO bring your mom, your aunt, your sister, your daughter, your best friend, your neighbor, your co-worker, but NO guys! This unforgettable stay is for ladies only.
Making friendships with other "Cowgirls" and bonding with your Sylvan Dale horse makes this adventure a top of the "bucket list" experience! Getaway is limited to 20 cowgirls — book early to secure your place. Sylvan Dale Ranch is a family owned horse and cattle ranch located 1 hour north of Denver and 15 miles east of Rocky Mountain National Park, offering horse riding adventures and trophy trout fly-fishing on 3,200 acres in the Rocky Mountain foothills.
Learn more by emailing Sylvan Dale Ranch, calling (970) 667-3915 or Toll-free (877) 667-3999 or visiting the Sylvan Dale website.

Drowsy Water Ranch, Colorado- Summer 2015 Discounted Weeks & Adult Only Dates
For over 85 years Drowsy Water Ranch, nestled in its own private mountain valley in Granby, has been providing folks and families from around the world with authentic Western vacations. The 2015 season runs May 31st to Sep 19th.
Discounted Weeks for 2015:
10% discount for weekly stays August 23rd and August 30th weeks.
Weeks after September 6th are 15% discount for Adults Only, groups and special events.
Learn more about Drowsy Water Ranch. Call 970-725-3456/ 800-845-2292. Email Drowsy Water Ranch.

Colorado Trails Ranch in Durango, Colorado- Summer 2015 Discounted Weeks
Colorado Trails Ranch is an all inclusive family vacation adventure in the San Juan Mountains just outside of Durango. 2015 dates of operation will be from June 7th to September 20th. Rates start at $2,250 per adult for the week and include all meals, accommodations, virtually all the activities and the gratuity.
A 15% discount applies to the week of June 7th, a 10% discount applies to the week of August 16th and a 20% discount is from August 30th to September 20th. These discounts apply to full week stays only.
Learn more about Colorado Trails Ranch. Call 877.711.7843 or 970.247.5055. Email Colorado Trails Ranch.

63 Ranch, Montana- Adult Only Weeks Announced for September 2015
2015 dates of operation begin June 14 and extend through September 12. September 6 – 12 is designated as Adult Only.
63 Ranch is a longtime Livingston, Montana dude ranch that borders the immense Gallatin National Forest, straddles Mission Creek Canyon, meets the craggy peaks of the Absaroka Mountains and rolls across grassy hills, rimrock ridges and sagebrush benches above the Yellowstone River. Horses out number guests by more than 2 to 1 at horseback riding ranches like this one. You'll admire the quality and condition of the stock at this Montana dude ranch.
Learn more about 63 Ranch. Call 888-395-5151. Email 63 Ranch.

C Lazy U Ranch- Women in the Rockies Sept. 20- 23, 2015
Women in the Rockies is a wellness adventure at C Lazy U Ranch led by Duke health coaches Janet Solie, PA, MS and Trudi Kissiah, PhD with a focus on connecting your vision, values and voice combined with mindful living strategies, nature and horses. Over a year in planning, this promises to be a life-changing adventure for a small group of like-minded women. Bring your best girlfriend or sister to this retreat or make new women friends here!
C Lazy U Ranch is a luxury setting known for its location and well-trained horses. No previous riding experience is needed.
Dates: Sunday, Sept. 20, 2015 at 1:00 p.m. to Wednesday, Sept. 23, 12 p.m.
Rate: Value priced total is $1,650 for wellness coaching, lodging, meals and riding, service fees and taxes all inclusive. Not included are spa services, bar charges or your transportation to/from C Lazy U Ranch. Group size is limited so book your reservation early.
To register, contact C Lazy U today at (970) 887-5901. Email C Lazy U. Visit the C Lazy U website.

Vista Verde Guest Ranch, Colorado- John Lyons Horsemanship Clinic October 11-15, 2015
Join a small group of riders to ride and learn under the renowned John Lyons in a special clinic October 11-15, 2015.
John Lyons is one of the inter-nationally known horse trainers in the field of natural horsemanship. Lyons has been presenting training clinics and horsemanship symposiums since 1980, has written many books on horses and horse training, and is the founder of John Lyons' Perfect Horse magazine. During the course of the clinic, riders and horses will learn the foundation exercises, lessons and principles of the Lyons Method. Riders will, first and foremost, learn to effectively control their horse. Whether a pleasure and trail rider, or an experienced competitor, all riders have the same common goal: to improve the level of control they have over their horses. The clinic will help you reach that goal and take your horsemanship to the next level.
Participation in this 4 night, 3 day clinic will be limited to a small group of riders and auditors. Riders may bring a non-rider companion to take advantage of other ranch activities during the clinic dates. Rates include lodging in one of our luxury cabins or lodge rooms, meals, beer and wine, clinic on our horse or yours, and airport transfers to and from the Steamboat/Hayden airport.
$2,700/rider
$1,900/non-rider- Guided trail rides, hiking, mountain biking, and fly fishing available for non-riders
$100/auditor/day- For non-guests who just want to come up to the ranch for the day to audit the clinic and enjoy lunch with our guests.
Learn more by calling 800-526-7433. Email Stephanie. Visit Vista Verde Ranch's website.

What do you get when you combine the splendor of Montana scenery, with majestic horses, authentic cowboys, and wildlife? The answer is a photographer's dream vacation. The Bar W in Whitefish, Montana is offering an all inclusive package designed to be centered on photography. We are teaming up with the Triple D Game Farm to provide the perfect setting for a week of unparalleled photo opportunities. Montana's diverse terrain and wide variety of wildlife will certainly fill your photo album, but it's more than taking pictures. This is a total package with three meals a day, lodging, horseback riding, skeet shooting, fishing, and all photo shoots included. After a full day of riding, fishing and photography, relax with our informal cocktail hour in the lodge by the fire. Or, if you prefer, loosen up those sore muscles in our hot tub before a homemade dinner you will not soon forget. So grab your camera and prepare to be awed.
Learn more by calling 406-863-9099, emailing Bar W and see what the Photography Package includes.

Sylvan Dale Guest Ranch, Colorado- Thanksgiving Getaway- November 26-29, 2015
Three comfortable nights' lodging and 8 ranch-style meals. This "over-the-river-and-through-the-woods" get-away is perfect for the whole family. After check-in on Thursday head to the Jessup Lodge for a complimentary beverage before sitting down to a Traditional Thanksgiving Feast. Fill the days with horse-drawn wagon-rides, hikes, trail rides, ranch chores, a draft horse workshops, fly-casting clinic, tour of the cattle ranching facilities, natural history and geology tours, and pond fishing. Lots to do…no pressure to do it.

Grab a cup of hot cider and allow yourself some football couch time, or snuggle in for a fireside chat with family and newly-made friends. Don't miss the traditional showing of "The Wizard of Oz," for kids of all ages, complete with popcorn and sodas! You can have the best of both worlds — a traditional Thanksgiving with family and friends and none of the work that typically goes with it! We invite you to share our family table! The ranch is located west of Loveland, Colorado, 1 hour north of Denver and 15 miles east of Rocky Mountain National Park.
Learn more by emailing Sylvan Dale Ranch, calling (970) 667-3915 or Toll-free (877) 667-3999 or visiting the Sylvan Dale website.

Various Dates Throughout 2015

Visit this 17th Century Luxury Eco-farm located 2 hours from Quito, Ecuador's capital city. Hacienda Zuleta has been recognized by National Geographic, Conde Nast Traveler and dozens of other publications as one of the most exciting and authentic places to visit in South America.

Infants up to 3 years stay free • Children up to 12 years of age cost 50% of the rate • Extended stays (4-6 nights) 5% discount • Week stays (6 or more nights) 10% discount • Family & Friends (5-10 members) 5% discount • Groups (more than 10 members) 5% discount
For more information or to book a reservation, Email Hacienda Zuleta. Visit Hacienda Zuleta's website.
Rancho de los Caballeros is a historic guest ranch, located about an hour away from Phoenix, situated on 20,000 acres of high Sonoran Desert. The Ranch Experience package is ideal for those who wish to pick and choose their Western activities for a more personal vacation. Package includes: Luxurious casita accommodations, Breakfast, lunch & dinner daily, Ranch Credit of $120.00* per night stay, per person to be used towards activities (golf, spa, horseback riding or trap and skeet shooting) or dining. Access to all scheduled free ranch activities (tennis, nature hike or lecture, bird-watching tour, Hassayampa River Preserve tour)
Rates start at $620/night at double occupancy. Extra person, extra nights and single rates are available. Requires a 3 night minimum stay.
Package pricing does not include 7.3% tax and 15% gratuity in lieu of tipping.
*Activity allowance can only be applied to green fees with cart, scheduled horseback riding, skeet shooting, or spa service (excluding gratuities). Credit has no cash value.
Book this trip or learn more by emailing Rancho de los Caballeros. Calling 800-684-5030. Visit Rancho de los Caballeros website.
Castle Leslie - 3 or 5 days Horse Sport Package
The Castle Leslie Estate in Ireland offers an idyllic setting for outdoor activity and adventure. It is the perfect place to discover the thrill of exploring the beautiful Irish countryside on horseback. We welcome riders of all ability and offer expert tuition, gentle hacks and exhilarating cross-country rides. The Equestrian Centre combines the authentic charm of a country estate with all the amenities you'd expect from one of Ireland's best horse-riding locations. As one of Europe's finest equestrian playgrounds, Castle Leslie Estate offers memorable horse riding holiday experiences for riding enthusiasts of all levels. So whether you're a beginner or an experienced rider, Castle Leslie Estate is the place for you.

Contact: Email Castle Leslie. Call +353 (0) 47 88 100 Visit Castle Leslie website.


Castle Leslie - 3 or 5 days Happy Hackers Equestrian Vacation Package
Happy Hackers is for anyone who enjoys the simple pleasure of exploring the countryside on horseback. This package involves daily estate riding. This is a 3 or a 5 day programme, 3 hours riding per day, 3 or 5 nights bed & breakfast and a 2 course meal each evening in Conor's Bar. Activity will be part of a group session.

Contact: Email Castle Leslie. Call +353 (0) 47 88 100 Visit Castle Leslie website.

For the beginners or riders who wish to improve their riding skills whilst enjoying some gentle hacks around the Estate. Each rider will receive a series of lessons culminating in a 2 hour ride around the Estate. This is a 5 day programme, 3 hours riding per day, 5 nights bed & breakfast and a 2 course meal in Conor's Bar each evening. Activity will be part of a group.

Contact: Email Castle Leslie. Call +353 (0) 47 88 100 Visit Castle Leslie website.