Darley Newman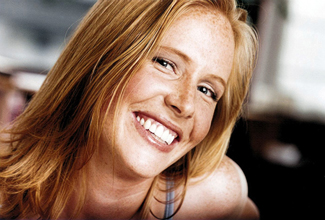 is a travel expert, published author and the five-time Daytime Emmy nominated host, writer and producer of Equitrekking, the Emmy Award-winning lifestyle television series that takes viewers on global travel adventures to experience culture, cuisine, history and adventure. Darley and local guides discover the best of each destination as they ride horses and camels, hike, snorkel and sightsee in stunning landscapes, capturing the world's most beautiful locations and interesting experiences in high definition.

Equitrekking is broadcast on PBS stations across the nation, on Create TV, a Public Television lifestyle channel that reaches over 83% of the U.S. Equitrekking is also broadcast on international networks in over 82 countries including the UK, Ireland, Japan, Italy, France, Russia and Turkey. Equitrekking segments have also appeared on the Starz Networks Encore Westerns Channel, where Darley trots through the American West and reveals locations where great Western movies were filmed. Darley is an entrepreneur who created her dream job from the groun up. She is also the founder of EquitrekkingTravel.com, featuring exceptional equestrian vacations, Top20Ranches.com, featuring great ranch vacations, and Equitrekking.com, the companion website to the Emmy-winning TV show.

Darley grew up in South Carolina and started riding horses at the age of seven at camp in the mountains of North Carolina. Growing up in a beach area, Darley spent lots of time outdoors playing tennis, surfing, taking tap dance lessons and participating in community theatre. In high school and college, Darley studied abroad in Spain and Italy, trips that fueled her interest in seeing the world. Primarily an English rider at home, Darley rides different horses and all types of local riding styles around the world.

With Equitrekking, Darley combines her passion for travel with her background in television production. Darley has worked at 48 Hours, CBS, the WB, The Talk Radio News Service and on various PBS documentaries and series. While filming Equitrekking, Darley constantly encounters challenging places to explore, like the crater of a volcano on Maui, the backcountry in snowy Queb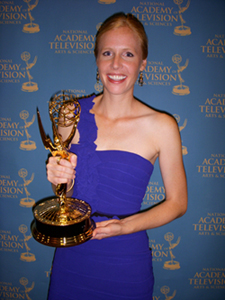 ec, the varied terrain along the U.S. Mexico border, the Wadi Rum Desert in Jordan and the rainforest in Belize. She's daringly ridden championship cutting horses in Colorado, award winning Andalusians in Spain and famous movie star horses in Utah. Her ability to make on camera guests feel at ease has allowed her to interview people of varying cultures and walks of life including HRH Princess Alia in Jordan, Yeardley Smith, the voice of Lisa Simpson on The Simpsons, world-class scholars and historians, Middle Eastern Bedouin, South American gauchos and authentic working cowboys.

Darley chronicles her adventures through Darley's Blog, Equisearch.com, DiscoverHorses.com, Equitrekking's monthly e-newsletter and various magazines and travel publications including CNNGo, ABILITY magazine, Women's Adventure magazine, and others. She is author of the Equitrekking: Travel Adventures on Horseback companion book, published by Chronicle Books. This beautiful coffee table style travelogue showcases Equitrekking's first 13 destinations through Darley's writings and Chip Ward's stunning photography. Reviewed in the Denver Post and Budget Travel, Equitrekking: Travel Adventures on Horseback takes readers from the remarkable ruins of Ireland and charming colonial towns of Spain, to the lush rainforests of Hawaii.

Darley writes regular columns for True West, Horses All and Practical Horseman magazines and frequently speaks at events and to the media. She's featured in the book, How'd You Score that Gig, a Guide to the Coolest Jobs and has been featured in New York Times, Chicago Tribune, NPR, The Washington Post, USA Today, National Geographic and Ralph Lauren magazine.
In 2009 and 2010, Darley was nominated for two Daytime Emmy Awards for her work as Host and Producer of Equitrekking in the Outstanding Special Class Series category, up against MTV's True Life and Made. In 2011, Darley was nominated for a Daytime Emmy alongside executive producer Chip Ward for writing Equitrekking, up against The Ellen DeGeneres Show and Jon Stewart, Stephen Colbert and their team of 31 Comedy Central Writers. The Equitrekking crew won a Daytime Emmy Award for Outstanding Photography in 2009. 
In 2009 & 2010, Darley was awarded first place in the North American Travel Journalist Competition for Best Travel Broadcast for Equitrekking. Her Equitrekking book won the Merit Award from the North American Travel Journalist Association. In 2013, Darley was nominated for two Daytime Emmy Awards for Outstanding Special Class Writing and Outstanding Travel Program for Equitrekking.
For more information or to schedule an interview with Darley or find out about speaking engagements, contact us.

Recent speaking engagements include the Women's Leadership Conference and Celebration of Inspiring Women.

Learn more about Darley in the below Interviews and on Equitrekking's media section and press page:

Chicago Tribune

Bethesda Magazine
The Washington Post- Making It
National Geographic Intelligent Traveler
More Equitrekking and Darley In the Media.

On the Road with Darley-- Host Darley Newman comments on some interesting facts and figures related to Equitrekking

120 and counting-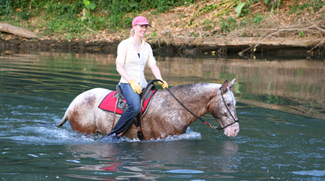 Number of horses Darley's ridden while filming Equitrekking. "I ride different horses and different breeds wherever I go, from Arabians in the Middle East to Criollo horses in South America to Quarter horses in the American West. I am constantly adjusting to new riding styles and having fun with new equestrian fashions."
35 and counting- Number of Equitrekking episodes. "People often can't believe some of the places that we ride. I have had people ask if there are really horses in Iceland. Up until the early 20th century, horses were the sole mode of transportation around Iceland. When you visit and see these beautiful horses running through the sometimes treacherous terrain in Iceland's lava fields, you'll understand why."

Number of granola bars consumed-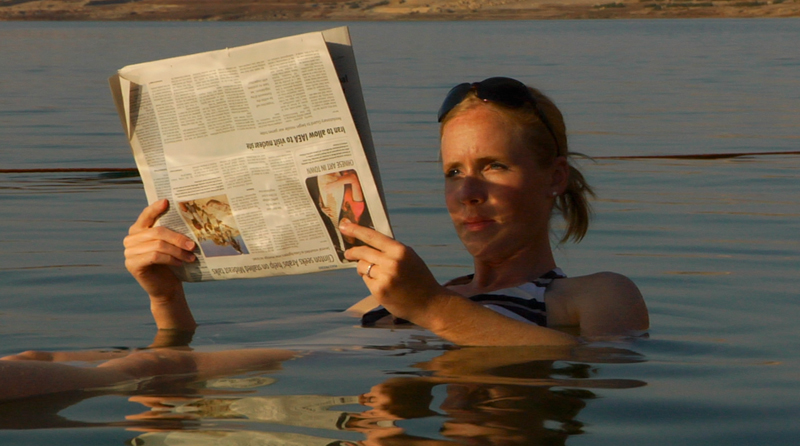 Endless. "I often don't get to carry a whole lot with me when we are filming and sometimes we're out longer than we planned, so these energy boosters are a hot commodity."

Favorite spa experience- Reykjavik and the Dead Sea. "It's a tie! After herding horses through the lava fields of Iceland, it felt really good- almost necessary- to soak in a hot pot at the spa, especially since I was riding again the next day. The Dead Sea in Jordan was just so different. I got in some reading while I floated and loved seeing the sunset from my resort's pool."

Best Camping- Wadi Rum and Dana, Jordan. "In the Dana Nature Reserve outside of the small village of Dana in Jordan, we camped in this very cool eco-friendly setting and in the desert, I spent time with the Bedouin. We had beds in our tents and the sandy floor was covered with carpets. There was always a nice fire with strong cardamon tea. It was peaceful."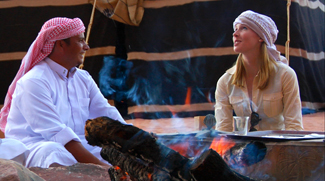 Best on the trail snack- Tapas in Spain tie with Turkish pide in Turkey. "I could really get into the Spanish lifestyle. On a ride through the countryside outside of Seville, we stopped for an aperitif on the trail. I wasn't expecting the spread before me. Alfonso, who we rode with, had prepared all of these delicious Spanish hams and cheeses, breads and crackers, along with sherry. It was amazing. In Turkey, we stopped for a picnic by the fairy chimneys of Baglidere. We ate this amazing Turkish pide, which is similar to pizza or a one-sided pita covered with good fixings. Mine was baked with tomatoes, feta, lamb, garlic and onions."

Most useful bush remedy- Belize jungle. "Albert, who guided me, is an expert on medicinal remedies and showed me everything from leaves that I could wrap around my head to alleviate a headache, to leaves I could crush and use as a natural bug repellent, to cutter ants that could be used like stitches to suture a cut or wound. He demonstrated the power of the cutter ants by letting one bite his hand. Ouch!"


Best wildlife- Costa Rica. "In Costa Rica, I encountered howler monkeys, bright macaws, iguanas, the red-eyed tree frog, poison dart frogs, cutter ants, and more. It was amazing to see so much wildlife in one area."

Most challenging adventure activity- Tree climbing Costa Rica. "I climbed a 12 story tree in the rainforest in Costa Rica. It was extra challenging because we were filming, so I had to stay suspended in the air while I waited for our cinematographer to get different angles. I thought that my arms were going to fall off. The climb took me to the top of the rainforest canopy, where the views at sunset were beautiful."
Most Interesting Hike- Jordan. "We hiked through Wadi Mujib, Jordan's version of the Grand Canyon. It was so much fun, like a giant, natural water park with rocks to slide down, mini waterfalls... until we reached the giant six story waterfall that we had to rappel down. Our entire crew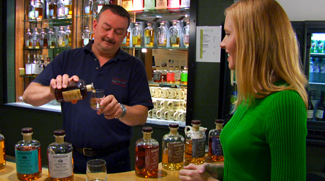 was a little nervous as we rappelled through this waterfall. Not to mention we had to do it with our high definition film equipment."

Worst Breakfast- Scotland 8am Whiskey Tasting. "We did a segment in Scotland on how whiskey is traditionally processed and this included a very early tasting. We had to film in the tasting room before they opened it up to the public and that meant an early morning tasting. Let's just say peaty whiskey and cereal don't go too well together."

Most dangerous adventure- Snowmobiling in Iceland. "I was a little wary of snowmobiling on a glacier, because there are hidden crevices. If you fall in, you are in real trouble. My guide used GPS to help us get around, which made me even more scared, because when I use my GPS to take me places, it often gets me lost."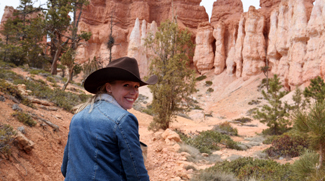 Most Challenging Horse Ride- Bison round up on Antelope Island, Utah. "There were only two of us trying to move a large herd of very large bison, and since I had never herded bison before, I was definitely the weakest link. It was a very good thing that my riding companion Ron and horse Sawdust were old pros, because those bison are scary up close."

Hottest Ride- Belize. "We stayed at an eco-friendly lodge in the jungle, which was beautiful, but you really appreciate solar powered showers after a day of riding in the sometimes steamy jungle."

Coldest Ride- Quebec in the snow. "I thought it would be beautiful and dreamy to film a snow riding episode in Quebec. My crew wasn't too happy about donning snow shoes and trudging off the trails to film us, but the episode is gorgeous and cantering through the snow is a rush."


Highest Ride- Engineer Mountain, Colorado. "Engineer Mountain rises to over 13,000 feet above sea level. When you are up at those altitudes, the weather can change quickly. We endured a sudden hailstorm. As the ice pelted me, I really appreciated my cowboy hat and layers."

Most Challenging Film Shoot- Hawaii's Big Island. "While we were filming, we were staying in this house in Hilo that was all screened in and there was an earthquake. Then a hurricane was coming ashore so we had to evacuate to another part of the island. Later in the shoot, we were riding in Waipio Valley, a valley that was destroyed by a tsunami in 1946, and there was a tsunami warning. Finally, we're filming at Parker Ranch and there was a nearby wildfire! Fortunately, we still were able to film a great episode, despite our bad luck on the Big Island."
To read more about Darley's adventures, check out Darley's Blog.