Elkhorn Ranch- Arizona Dude Ranch
Arizona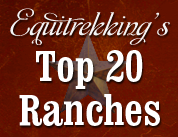 About 50 miles southwest of Tucson, you will find Elkhorn Ranch nestled into secluded Sabino Canyon. This Arizona guest ranch offers unparalleled horseback riding and comfortable living for around 32 guests.
Couples, families, and solo travelers find a home away from home at Elkhorn Ranch, and many return year after year. Horseback riding at Elkhorn Ranch provides plenty of opportunity for adventure and a great way to see the incredible scenery of the Baboquivari Mountains and Altar Valley. Gentle or loping rides through the desert and more vigorous trips up into the mountains are offered every day except Sunday, when the horses enjoy the day off. The ranch's 10,000 acres provide plenty of remote canyon and mountain country to explore, a true wilderness experience. For those who really wish to see the country, there are all day adventures with sandwiches or a mule-packed hot lunch.

With six guides, groups are kept small so that you may have the length and pace of ride you desire. Beginning riders have the chance to build skills and confidence while more experienced riders can find challenge and stimulation. Over the years, people of all ages have learned to ride at Elkhorn and many adults have continued to venture high into the mountains well into their senior years. (Children must be age 6 or older to ride, and there is a 250 lb. weight limit for all riders.) The Elkhorn herd of 120 head of horses includes brood mares, colts and saddle horses that vary in type and temperament to suit any rider – the right horse and saddle remain yours throughout your visit. Horses have been raised and trained here for years and we pride ourselves on having the variety that makes for fun and safety.
Special 2015 Ranch Weeks
Visit between November 30 – December 21, 2014 and enjoy the winter quiet rate that discounts about 5% off of the normal weekly rate!
For more information or to book a reservation, call at 520-822-1040. Email Mary. Visit Elkhorn Ranch's website.
Extended Stay- Relax and Ride!
Enjoy two week rate that discounts your visit about 5% off of the normal weekly rate, or three week rate that drops about 12% normal from the weekly rate.
Kids Stay Kids Through High School
No charge for children 5 and under, and 45% discount for kids 6-15 & 35% discount for teens 16-18 off of normal weekly rate … Elkhorn Ranch is a great Family Vacation Destination! There's still room at Thanksgiving, as well as some spring school holidays weeks! Give us a call to check availability!
For more information or to book a reservation, call at 520-822-1040. Email Mary. Visit Elkhorn Ranch's website.
East Meets West Adventure Vacation & Old-Time Music Workshop January 4 - 11, 2015
musical inspiration by rory macleod & sandol astrausky and bill burke
This week harkens back to the origins of Old-Time music, when friends simply gathered with their fiddles, guitars, banjos, mandolins and the like around the fire, on the porch and into the wee hours to make music together. This workshop is for enthusiasts of all levels of experience. Enjoy individual or small group lessons in the afternoons, and a group jam session after supper. Workshop leaders Bill Burke and Sandol Astrausky and Rory MacLeod met at Elkhorn Ranch in 2014 and want to keep playing together in 2015. Sandol and Rory have been playing professionally and unprofessionally since the late 1970's. They teach the string-band class at Brown University and have taught at the Mars Hill College Old-Time Week. Sandol plays and teaches fiddle. Rory plays and teaches guitar, banjo, bass and ukelele. Bill Burke is a well-loved, highly respected resident of Flagstaff, Arizona. He has been crafting exquisite custom stringed instruments and world-class furniture for more than 40 years. He plays music and teaches, and you can learn more about his work at oldtimeymusic.com.
Digital Photography & Natural History January 18 - 25, 2015
guided by stewart aitchison & ann kramer
This week attracts photographers of all levels, whether you seek an opportunity to focus your work on horses or you are a beginner trying to unravel your camera's menu. Stewart and Ann's friendly and informative afternoon and evening presentations are scattered through the week. The day often begins with camera in hand to watch the horses come in from the wrangle — a neat time to capture light, motion and energy. Everyone enjoys day-to-day Elkhorn life, riding and walks with camera in hand — a chance to take the time to look at things differently through the camera lens. Ann's artistic camaraderie and Stewart's years of experience as a writer, photographer and naturalist guide all over world add richness to the week.
Horse Sketching – Breyer to Barnyard! February 1 - 8, 2015
led by ruthie stoner
This week aims to provide a different way to enjoy horses, from the ground with sketchbooks and pencils in hand. Ruthie Stoner will guide a series drawing sessions to demystify drawing a horse. To start, Breyer horses that stand still as can be on a table top serve as models to help you produce a well proportioned contour drawing of a horse — then turn you loose to do fun, messy and lively charcoal subtractive drawings. Then we'll move to the barn yard for gesture drawing, and progress towards incorporating depth and value by the end of the week. Ruthie Stoner is a classically trained landscape oil painter whose love of horses began as a young woman riding in southern Arizona ranch country. A basic materials list will be available if you wish to bring materials from home and sketchbooks and drawing pencils will be sold at the office. Messy (but fun) charcoal and suitable paper will be provided by Elkhorn. Afternoonsessions will be planned for Monday through Friday, and you can participate as you wish, with the understanding that the lessons will build upon each other as the week progresses.
For more information or to book a reservation, call at 520-822-1040. Email Mary. Visit Elkhorn Ranch's website.
Ranch history
Elkhorn Ranch has been continuously owned and operated by the Miller family since 1945, when Grace and Ernest Miller ventured south from Montana to find a sunny winter guest ranch location. They already operated an Elkhorn Ranch in the Gallatin Valley of Montana, and had teamed up with other pioneer dude ranchers to found the Dude Ranchers' Association.
In Arizona, they found an ideal location at what had been the Fresnal Ranch School, and before that a cattle ranch homesteaded by Sabino Otero. Sadly Ernest passed on soon after purchase of the Arizona ranch, but Grace and her son Bob and his wife Jan improved the ranch infrastructure and developed generations of friendships among ranch guests. The third generation, Charley and Mary Miller and Tom and Anne Miller, continue the tradition today.
The Millers raise and train Thoroughbred, Percheron and Quarter horse cross horses uniquely suited for the Baboquivari Mountain terrain, and they work closely with ranching neighbors involved in the Altar Valley Conservation Alliance to keep the surrounding country a healthy open working landscape. For over 60 years now, the Miller family and their crew have provided the care you need to enjoy rest, quiet and stimulating activity around the ranch and on miles of mountain and desert trails. You will always find a friendly welcome plus abundant birds and wildlife and curious Sonoran desert vegetation will greet you each day.
Activities & Amenities
Winter Ranch Vacations, Birding in Sonoran Desert, Heated swimming pool, Tennis court, Western horse riding, Hiking.
Accommodations
Twenty cabins provide comfortable accommodations for singles, couples of families. Cabins are equipped with private baths, electric heat and good reading lights. Some have separate sitting rooms and fireplaces – no television or phones in the rooms. Accommodations are scattered throughout the mesquite to provide privacy and seclusion for rest, sunning on chaise lounges, writing, reading or socializing with friends or family. You'll find a bird feeder outside your cabin and as much birdseed as you care to feed.


Food
Meals are served buffet style in the Long House three times a day and you can order hot breakfast of your choice. Meals are well-balanced, nutritiously prepared and the variety appeals to most appetites. You'll have the option of an adventurous lunch on the trail a couple times a week, plus everyone enjoys the weekly Saturday picnic in the desert. The ranch has no bar, rather those who wish entertain at their cabins. Special dietary requests or celebration cakes are welcomed, with advance notice.
Area Attractions
Live amidst the curious beauty of the Sonoran Desert during your Elkhorn visit, and access scenic mountain country on horseback or on foot with wilderness views as well as open desert country for faster riding. For regional sight-seeing, the Arizona-Sonora Desert Museum is our family favorite – also the old Spanish missions at San Xavier del Bac and Tumacacori, and Kitt Peak National Observatory.

At a Glance
Traditional winter season Arizona guest ranch
Location
Baboquivari Mountains southwest of Tucson, Arizona
Airport
Tucson International Airport
Riding Style/ Ability
Western style, beginner to advanced
Season
Winter season, mid-November through April
Capacity
Twenty cabins, with average capacity of 32 guests

Corporate Groups, Retreats, Meetings are welcome with the ideal number being 20 people or less during the winter quieter months in December between Thanksgiving and Christmas or when space available. Please inquire.
Rates
2014/ 2015 weekly rate is $1570 per person per week single or double cabin, plus 15% gratuity and tax, with lower rates available for longer stays and additional people in the same cabin (generally used for children). Nightly rate $310 per person plus tax and gratuity, with four night minimum.
Payment by check, cash, credit card or bank wire.