Horseback Winery Tours at a Uruguay Estancia
It took a little getting used to the tack on my first ride in Uruguay in South America. I felt like I was straddling a very wide, soft table—very different from my English saddle at home.
I was riding in a traditional sheepskin saddle at Finca Piedra, a working cattle ranch and farm in southeastern Uruguay. I had already decided the round stirrups wouldn't work for me and the saddle would take a little getting used to as well as we galloped through a wide open field.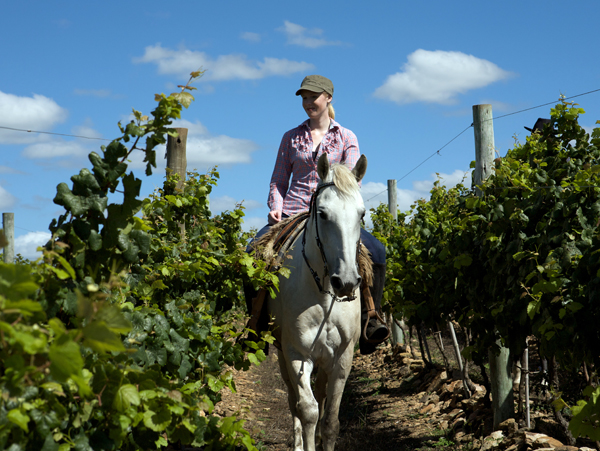 Self-Sustaining Estancia
At this working estancia, I was enjoying riding by and then eating many of the products produced right on this busy farm.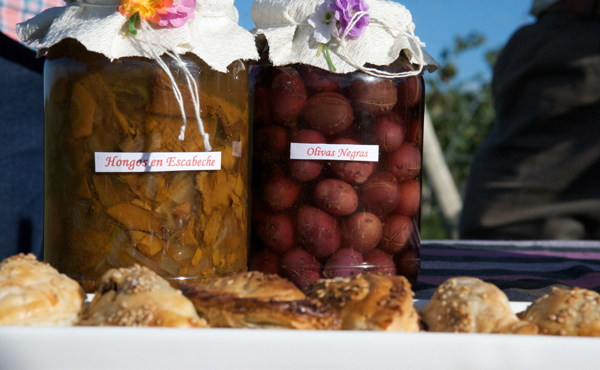 There's wine from their vineyard, honey from their bee hives, fresh vegetables and fruits which they preserve to make jams and limoncello. They also raise sheep, cattle, and horses.
Ocean of Stones
Jason, one of the owners, and Pedro, the resident gaucho, led me up to Sierra de Mahoma, a large outcropping of granite rocks that really stands out amid the flat grasslands surrounding it. This special place has microhabitats, including sierra forest and small wetlands that serve as a rest stop for migratory and threatened species.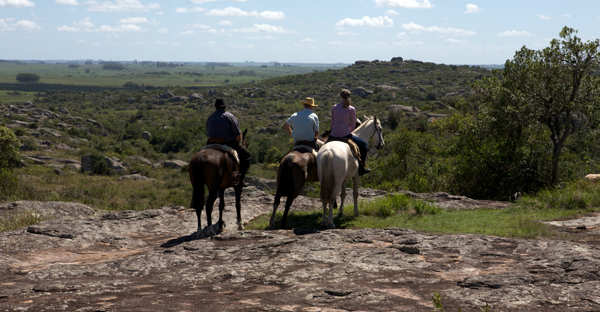 Locals call it the "Ocean of Stones" and as we approached a high point, we looked out onto what seemed like endless boulders.
Pilgrimage Site
A large cross amid the rocks marked a pilgrimage site for the Virgin Rosario. Jason told me that many Uruguayans believe that a visit to this site can bring them luck or even heal them. Down from the stones, we got lost in rows of vineyards, where tannat grapes, a red wine grape that is widely grown in Uruguay, does particularly well.
Not a cloud in the sky still after a full day of exploring, I was happy to get out of the saddle to stretch my legs for a snack of chorizo and wine at this diverse, self-sufficient farm in South America.
Learn more about horseback riding in Uruguay and around the world by watching the new season of Equitrekking and check out estancia vacations in Uruguay at EquitrekkingTravel.com
Topics: equestrian vacation, equestrian vacations, estancia tour, Finca Piedra, horse holiday, horseback riding vacation, horseback riding vacations, horseback winery tours, ranch holidays, South America, sustainable estancia, Uruguay, Uruguay horse riding, Uruguay horse riding vacation, uruguay riding holidays, uruguay vacations, working estancia
Comments
There are no comments on this entry yet. Post the first below!
Post a Comment