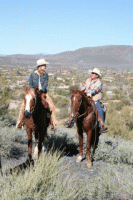 by Equitrekking host Darley Newman. Originally published in True West magazine.

On a recent trail ride in the town of Cave Creek, outside of Phoenix, Arizona, the need to preserve riding trails, not only in natural areas but in our own backyard, was once again brought to my attention. Riding with trails preservationists and Cave Creek residents Terry Smith and Don and Cathy Peterson, who have mapped trails in the Cave Creek area and beyond, I was struck by their passion for incorporating horses and western lifestyle into their community. It made me wonder what more we can do to ensure that we can continue to ride into the wild blue yonder and beyond.

It's not often that you find a town where you can still ride your horse into town. That was the premise of our ride in Cave Creek. We were heading to a locals' venue, the Buffalo Chip, for lunch. This western style restaurant and dance hall has hitching posts in its large, back area, appropriate for tying up your mount, while you grab some food. We passed several riders, out for a Saturday ride through the washes amid neighborhoods, where people still keep horses at home.

As an East Coast resident, used to riding trails in the woods of Connecticut, it actually wasn't that odd to be riding through the washes between people's backyards. It was odd to do it in the Southwest, a place that conjures up images of Sonoran desert cacti stretching as far as the eye can see, painted deserts and cowboys conquering canyons. All of my rides in Arizona, except the one in Cave Creek, would be on large ranches, vast stretches of land and national parks, except this one.

It was the ride in Cave Creek that made me appreciate even more the communities which strive to preserve open space and the opportunity to ride freely. I chose the ride in Cave Creek to film for our Public Television series Equitrekking®, to highlight a community for which horses are a major part of life. As we rode along Schoolhouse Trail beside a road with cars whizzing by, I thought about all of the people in this area and the East Coast cities that I know, who want or need to be near a city, but still want to be able to have space to ride. Terry shared about his thoughts on Cave Creek, sheltered by the mountains, but close enough to bigger development and business for residents to be concerned about infringing commercial development.

As I travel the United States and the world, I get to see what its like to live and ride in other places and what people are doing to hold fast to their land and riding trails around the globe. In Iceland, most of the population lives in and around the capital city of Reykjavik, meaning that land to ride in Iceland is not a problem. The society is extremely horse friendly, having a horse trail that runs along parts of their main highway, corrals outside of restaurants and shops and weekend horse events that are watched with similar enthusiasm to football games in America. In El Rocio, Spain, the town's streets are left unpaved to accommodate horses and carriages. In parts of Ireland, you can still ride from town to town or your local pub. In all of these European destinations though too, land rights laws and permission to ride in certain places is also an issue.

All over the United States, organizations and communities are spearheading efforts to ensure that there is space to ride—and breathe! In Wyoming, ranches like The Hideout at Flitner Ranch are working to keep their large tract of land free of commercial development and keep their cattle operation alive by preserving the land in Shell Valley in the Shell Valley Preservation Trust. In Greenwich, Connecticut, a sprawling town on close to the metropolitan area of New York City, the Greenwich Riding and Trails Association has been working since 1914 to preserve open space and riding trails.

I get this positive news amid the negative news that many ranches are closing their doors and selling off land. In many communities, it is a fight to keep horses around. Communities just like Cave Creek are fighting to keep horses in the mix. So what can be done?

Organizations like the Equestrian Land Conservation Resource (ELCR), a non-profit dedicated to preserving land for horses and riders, work on a national basis to educate the public on steps that they can take to actively save land from development and help horse communities. Deb Balliet, CEO of ELCR suggests that people "participate in their local community planning and zoning process to get to know their local trust and planning resources and become knowledgeable about land conservation."

Like anything else, numbers make an issue stand out more and in places like Cave Creek, it's people like Terry Smith who work so hard to rally the troops and keep horse issues in the forefront. As Terry said as we starred at the surrounding town from a high point on the trail, "Cave Creek is an area where it's wide open riding, and the town has the protection for the horse people and that's what we fight to keep."
Purchase Equitrekking DVDs, the Equitrekking Travel Adventures on Horseback book and more at ShopDarley.com. Learn about equestrian vacations and book a trip at EquitrekkingTravel.com.
Topics: Arizona, Horse Culture, Trail Riding, United States
Comments
There are no comments on this entry yet. Post the first below!
Post a Comment