The American Quarter Horse Association's Trail Ride Program began in 1997 and annually hosts nearly 80 rides around the world. If you have a horse, you're welcome to participate! Trail riding is a great way to see a new place and on AQHA's organized rides, travelers have the chance to meet other riders, see a new area and enjoy a sort of play date for your horse.
From Texas to Ohio to Canada and Kentucky, check out 2017 trail rides and see where you can explore on horseback.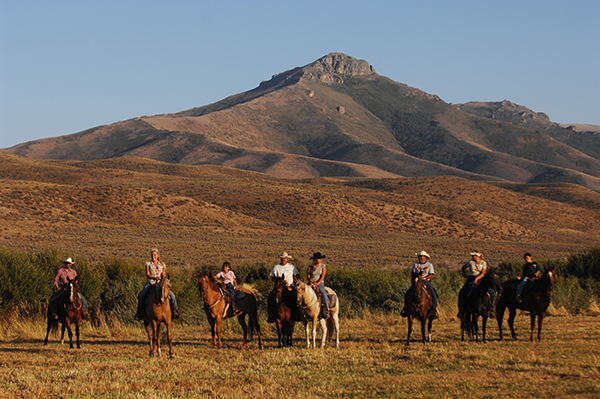 2017 AQHA TRAIL RIDE SCHEDULE
Riding Missouri with Cross Country Trail Ride and the American Quarter Horse Association.

September 8-11, 2017 Merritt, BC, Canada
Nestled in the heartland of the British Columbia, the LMQHA Fall Ride takes you trekking just outside of Merritt, BC. Beautiful trails, spectacular scenery. Ride to a home town Cider House to enjoy beautiful views of lakes and rivers and the historical ranching community.
Learn more.

September 9, 2017 Omaha, NE
Learn more.

September 14-17, 2017 Mammoth Cave, KY
Ride Kentucky and enjoy added activities like cave tours, fishing and skiing on Nolin Lake, ziplining, and Amish community shopping. Bring items to donate to the auction benefitting Green Hill Therapy for a chance to win prizes. Bring a themed basket as your donation and be entered in the contest for the best basket to win the basket created by your staff! Enjoy 60 miles of equestrian trails. The ride will feature a free clinic Friday, guided rides on Saturday and riding on your own is available throughout the weekend. There is a silent auction Friday night, live auction Saturday night and live bands Friday & Saturday nights. Meals are provided Friday evening thru Sunday morning and vendors will be set up to browse after your days riding in beautiful Mammoth Cave National Park!
Learn more.
Riding Mammoth Cave, KY.
September 15-17, 2017 Cle Elum, WA
The 21st Golden Harvest Charity Trail Ride is a feel good trail riding adventure with music and auctions, included!
Learn more.

September 22-24, 2017 Chandlerville, IL
Learn more.

Sept. 29 - Oct. 1, 2017 Monona, IA (in conjunction with Trail Challenge)
Ride horses at the Scenic View Ranch/IQHA District 2 Fall Colors AQHA Trial Ride & Trail Challenge. After the Saturday Trail Challenge is completed, take part in the late afternoon/evening ride in the elk preserve. Following the evening ride, there will be a potluck/party at the campgrounds.
Learn more.

October 6-8, 2017 Borden, IN
Learn more.
Trail Ride Program participants have the perfect opportunity to earn AQHA Horseback Riding Program hours, which lead to great rewards! Learn how to sign up to start earning time you spend in the saddle. For more information, call the AQHA Trail Ride Hotline at 888-414-RIDE for more information about an AQHA Trail Ride Program event near you. If you are an AQHA member interested in hosting an official AQHA Trail Ride please call 806-378-4711.
SaveSave
SaveSaveSaveSaveSaveSave
Topics: American Quarter Horse Riding Vacations, AQHA Trail Ride, Kentucky Trail Rides, Mammoth Cave Trail Riding, Trail Rides, Trail Riding, Trail Riding Holidays, Trail Riding Vacations, Trial Ride