The American Quarter Horse Association's Trail Ride Program began in 1997 and annually hosts nearly 80 rides around the world. If you have a horse, you're welcome to participate! Trail riding is a great way to see a new place and on AQHA's organized rides, travelers have the chance to meet other riders, see a new area and enjoy a sort of play date for your horse.
From Texas to Ohio to Canada and Kentucky, check out 2017 trail rides and see where you can explore on horseback.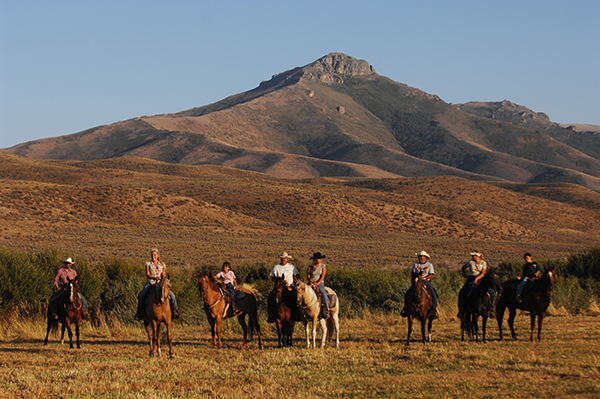 2017 AQHA TRAIL RIDE SCHEDULE
Riding Missouri with Cross Country Trail Ride and the American Quarter Horse Association.

September 14-17, 2017 Mammoth Cave, KY
Ride Kentucky and enjoy added activities like cave tours, fishing and skiing on Nolin Lake, ziplining, and Amish community shopping. Bring items to donate to the auction benefitting Green Hill Therapy for a chance to win prizes. Bring a themed basket as your donation and be entered in the contest for the best basket to win the basket created by your staff! Enjoy 60 miles of equestrian trails. The ride will feature a free clinic Friday, guided rides on Saturday and riding on your own is available throughout the weekend. There is a silent auction Friday night, live auction Saturday night and live bands Friday & Saturday nights. Meals are provided Friday evening thru Sunday morning and vendors will be set up to browse after your days riding in beautiful Mammoth Cave National Park!
Learn more.
Riding Mammoth Cave, KY.
September 15-17, 2017 Cle Elum, WA
The 21st Golden Harvest Charity Trail Ride is a feel good trail riding adventure with music and auctions, included!
Learn more.

September 16, 2017 Bjerringbro, DK
Join a Late Summer Trip to Dollerup Hills in Denmark! A sensational late summer trip to Dollerup Hills/Hald Lake outside Viborg. Ride over a large Heath area where we hope the heather is not bloomed out.
Learn more.

September 22-24, 2017 Chandlerville, IL
Learn more.

September 27, 2017 Haskell, OK
Enjoy Western Heritage Day at Silver Spur Western Lodge. There is no fee! Students will arrive at 9:30-10:00 am and depart at 2:00pm. Chuck wagon lunch is provided.
Learn more.

Sept. 27 - Oct. 1, 2017 Crawford, NE BOOKED UP! Ask about next year!
Join the Fort Robinson Historical Ride! This former military post dates back to 1874, where Chief Crazy Horse was killed, home of the Cheyenne Outbreak, 9th & 10th Calvary, largest remount station during the War Years, German Prisoner of war camp, ward dog training center, training grounds of US Olympic Equestrian Team in the 30s. Participants will stay in and stable their horses in the same quarters that the military used. Fees are $295.00 all meals and lodging included.
Learn more.

Sept. 29 - Oct. 1, 2017 Monona, IA (in conjunction with Trail Challenge)
Ride horses at the Scenic View Ranch/IQHA District 2 Fall Colors AQHA Trial Ride & Trail Challenge. After the Saturday Trail Challenge is completed, take part in the late afternoon/evening ride in the elk preserve. Following the evening ride, there will be a potluck/party at the campgrounds.
Learn more.

September 30, 2017 Amarillo, TX
Participate in the 10th Annual Rider on the Rim Trail Ride. River Falls is part of Palo Duro Canyon State Park, and belongs to members of the Pioneer Currie Family. Co-owner of the Bed & Breakfast at River Falls is the Chairman of TPHF board of Directors & Manager River Falls.
Learn more.

October 6-8, 2017 Borden, IN
Your host for this AQHA trail ride is the IQHA Charity Trail Ride at Deam Lake State Recreation Area. Deam Lake is 1300 acres of State Park in Clark County. There are multiple activities including fishing, camping, hiking and 194 acre lake named for Indiana's first state forester, Clarks Deam. Check in Friday Oct. 6th. Friday Dinner through Sunday Breakfast trial ride. Silent/Live auction and Saturday evening entertainment.
Learn more.

October 13-15, 2017 Halsey, NE (in conjunction with Trail Challenge)
Join the Annual 4H Benefit Ride & Trail Challenge! The Nebraska National Forest consists of 90,000 acres for public use. Come explore with fellow riders!
forest.
Learn more.
October 20-22, 2017 Mineral, VA (in conjunction with Trail Challenge)
Participate in the VQHA Mica Springs Trail Ride & Challenge. Mica Springs Farm is a Virginia Centurion Farm established in the mid 1800's. The original farm was about 1000 acres but now is 360 acres. The farm has the 7th oldest building in Louisa County which is the house that the Walton's lived in. This is the same family that the TV show the Walton's was taken from and the property is still there. Many Civil War graves are located on the farm. Rides may also find an old water wheel still standing. The first building was built in 1827 and the barn built in 4869. Lee and Grant had a small battle in the area. Many of the trails are the old Route 33 which went from Richmond to the town of Mineral. The area is rich in the mineral Mica which is where the farm gets its name and the town of Mineral came from. Not just the old Route 33 some of the trails on the farm are also old mining trails. Seventh generation family member Carl Via still lives on the farm.
Learn more.
Trail Ride Program participants have the perfect opportunity to earn AQHA Horseback Riding Program hours, which lead to great rewards! Learn how to sign up to start earning time you spend in the saddle. For more information, call the AQHA Trail Ride Hotline at 888-414-RIDE for more information about an AQHA Trail Ride Program event near you. If you are an AQHA member interested in hosting an official AQHA Trail Ride please call 806-378-4711.
Topics: American Quarter Horse Riding Vacations, AQHA Trail Ride, Kentucky Trail Rides, Mammoth Cave Trail Riding, Trail Rides, Trail Riding, Trail Riding Holidays, Trail Riding Vacations, Trial Ride