Take a break from the glowing metropolis and enjoy horseback riding through the natural wonders of Red Rock Canyon.
by Karen Braschayko
Las Vegas offers plenty of excitement – top-notch shows and concerts, all-night lights, chiming slot machines and thumping beats at every turn, buffets by the mile, winding paths through windowless casino floors, costumes and flamboyant clothing you never knew existed, swanky pool parties with celebrity DJs, water fountains that perform to music, and even a Statue of Liberty made of jelly beans next to a Statue of Liberty made of chocolate. The endless choices in decadent restaurants and luxury shopping and the sweeping architecture of steel, glass and lights might leave you craving simplicity. Many of us need a nature detox after spending a few hours in the nonstop world of the Strip.
The kind of sky we want to see while in Vegas! Photo from Wild West Horseback Adventures.
If your horse yearning involves a raucous theatrical bent, Tournament of Kings at Excalibur incorporates galloping horses and tells a story from King Arthur's court. It comes with a side of bright lights and loud pyrotechnics while you enjoy a Cornish hen dinner, so the quiet moments of the dressage performance are a welcome interlude.
But when you'd like to chuck the noise and find some nature, the good news is that wilderness is just a short drive away, with trails through Red Rock Canyon and sunset-in-the-desert vistas to calm your overstimulated soul. Tumbleweed, geological formations, ravines, cacti and sand are the backdrop for a range of wild desert inhabitants. Connect with the cowboy-infused history of Nevada, and appreciate ranch life right on the border of a glitzy adult playground.
Between the ears seeing Vegas from the saddle. Photo from Wild West Horseback Adventures.
If you'd rather observe wild equine behavior than Vegas-style human behavior (true story: inebriated men in kilts fell four times while trying to cross the lobby, unable to remember which hotel their room was in), you may find feral herds in the mountains at Cold Creek.
So when you're in the mood for a quiet diversion from the man-made clamor, check out these trail outfitters for a horse ride that will suit your timetable and your tastes. Trade in extreme sushi for barbeque, since hearty cowboy food sometimes accompanies these rides. Some also offer the opportunity to experience the rugged landscape on a horse native to it, with Mustangs occasionally available as mounts. Wranglers can help you learn about the ecosystem and wildlife while you experience it all up close.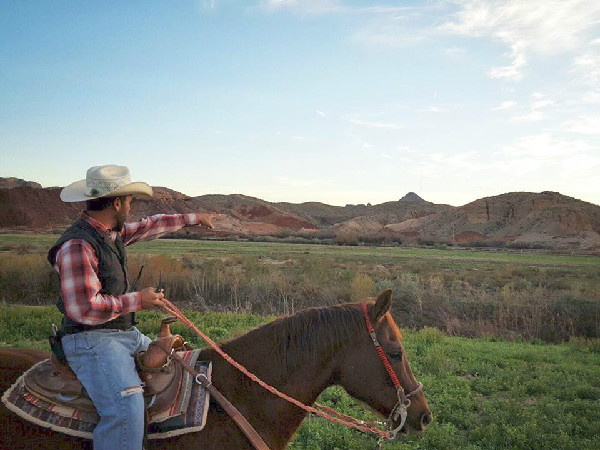 Photo from Wild West Horseback Adventures.
Cowboy Trail Rides
Located at the Red Rock Canyon National Conservation Area, Cowboy Trail Rides offers rides in a variety of lengths and scenery. Ride suitability and available horses range from novice to experienced riders. Choose from the Canyon Rim Ride, Sunset BBQ Ride, Red Rock Overlook, WOW Ride, Red Springs Ride, or the Coyote Canyon Ride. Wranglers help guests have a learning experience both in horsemanship and the local natural wonders.
Red Rock Riding Stables
Bonnie Springs Ranch contains Red Rock Riding Stables, which offers trail rides that commonly encounter wildlife like burros and bighorn sheep. Red Rock offers hourly rides as well as breakfast, lunch and dinner rides, and afterward riders can enjoy many other activities at Bonnie Springs Ranch. Pony rides, specialty rides and group rides are also possible if guests call in advance.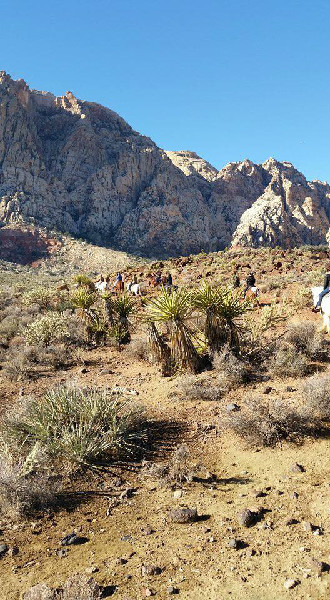 Photo from Wild West Horseback Adventures.
Wild West Horseback Adventures
Offering 45-minute trail rides through Red Rock Canyon, Wild West Horseback Adventures will pick you up from your hotel if desired. Choose from the Maverick Breakfast Ride, the Ol' Spanish Trail Lunch Ride, or the Wild Wild West Sunset Dinner Ride. Wild West helps guests see the West as Native American and explorers did on desert trails, and they specialize in helping new riders feel at ease.
Karen Braschayko is a freelance writer and horse lover who lives in Michigan.
Topics: BBQ, Bonnie Springs Ranch, burros, Cold Creek, cowboy food, Cowboy Trail Rides, desert trails, feral herds, feral horses, Group rides, Las Vegas, Native Americans, Nevada, Pony rides, Red Rock Canyon National Conservation Area, Red Rock Riding Stables, Tournament of Kings, trail outfitters, wild horses, Wild West Horseback Adventures