By Stacey Stearns
I recently returned from competing in a 30-mile limited distance endurance ride at Myles Standish State Forest in Carver and Plymouth, Massachusetts. The ride was sponsored by the New England Arabian Trail Organization and sanctioned by the American Endurance Ride Conference.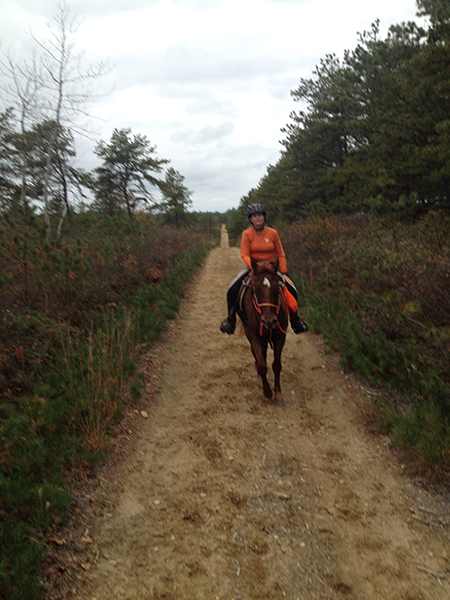 Trail riding at Myles Standish State Forest. Photo by Stacey Stearns.
The 15,000-acre forest is the northernmost section of the Pine Barrens. Riding in Myles Standish is eerily similar to riding in the Pine Barrens of New Jersey, but a distinct ride nonetheless. Access to the forest is conveniently located off of Interstate 495. You're only about 10 minutes away once you exit the highway. You drive in past a few cranberry bogs and through residential neighborhoods before arriving at forest headquarters in Carver.
There are 35 miles of equestrian trails within the forest. A horse camping area with 37 campsites is located at Charge Pond - Area C. Larger rigs may have difficulty navigating the equestrian campground. There is sand that has challenged a few goosenecks and low hanging trees surrounding narrow campsites. A day-use parking area for equestrians on Halfway Pond Road has a large paved parking lot and a grass field. You'll see the brown sign and turn off on the left after you've passed the forest headquarters. The day use parking lot is in Carver, while the horse campground is in Plymouth.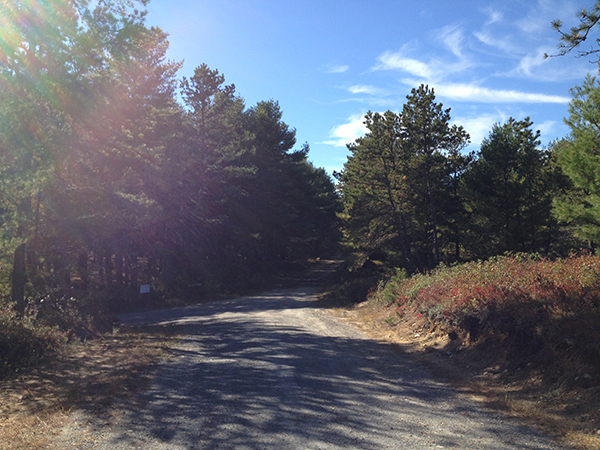 The parking lot at Halfway Pond Road. Photo by Stacey Stearns.
The Department of Conservation and Recreation (DCR) manages Myles Standish. Maps, campsite reservations, and additional information are available on their website at mass.gov/dcr. Be aware that hunting is allowed in the forest during the fall and winter months.
On The Trails
I rode a little over 30 miles in Myles Standish State Forest and only repeated about a mile of trail. There were another 5 or 6 miles of equestrian trails we left unexplored, and riding the trails in different segments would also add more variety. I've always come to Myles Standish in the fall, but I imagine a trip in the spring would create an entirely different landscape to explore as the area comes to life again after a dormant winter.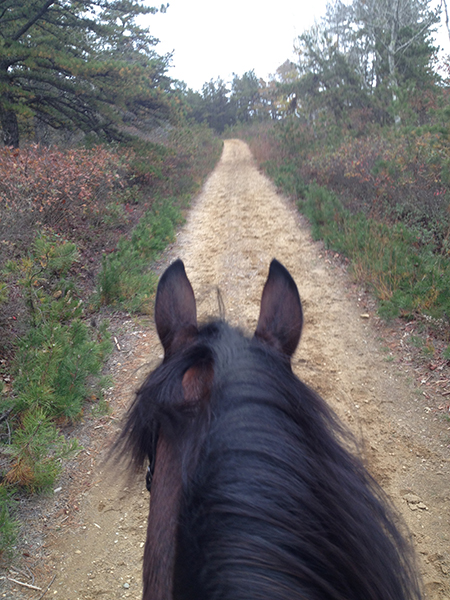 Headed down the sandy and rocky trails at Myles Standish State Forest. Photo by Stacey Stearns.
Even though Myles Standish is in southeastern Massachusetts, the terrain is rolling. We would crest a small hill, only to find an undulating roller coaster of sand road ahead of us, with more hills to climb. Footing on the trails consisted of sand and rocks. In a few places, the sand was deeper sugar sand. The fire roads on the Carver side of the forest tend to be rocky and washed out, the footing is better on the Plymouth side of the forest. I recommend hoof protection.
The forest is well marked with the occasional map mounted on a signpost at key intersections, and many brown DCR signs telling you the trail you are on and the distance to key points. There were also road signs on the dirt roads that helped us keep track of our location within the forest. I always ride with a map, and you'll definitely need one in Myles Standish.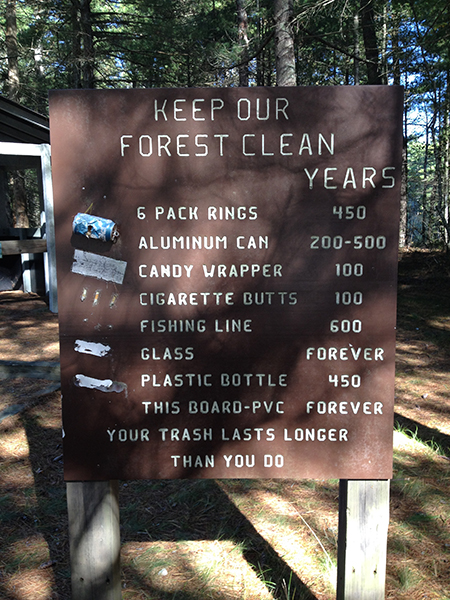 Always remember to take care of your trash. Let's keep our parks and forests clean. Photo by Stacey Stearns.
Paved bike paths cross the bridle paths and trails at numerous places throughout the forest. There are 15 miles of paved bicycle trails total. Use caution to avoid a collision as these can really pop out at you without much warning, and are frequented by cyclists.
Trails at Myles Standish are challenging. However, there is a serene beauty to riding in Myles Standish. The sandy trails are offset by the greens of what looked like a marsh grass, and the burnt red of the bushes in late fall. The tall pines with their green needles were the final backdrops. My Morgan gelding can smell good grass a mile away, and never showed any interest in the grass at Myles Standish – hence my guess that its sandy marsh grass.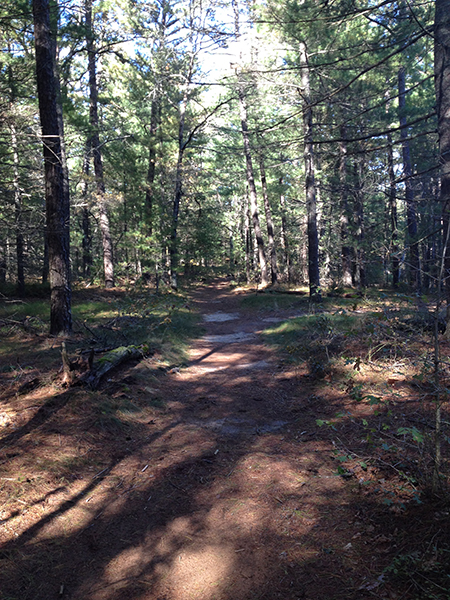 View of the trails and Myles Standish State Forest. Photo by Stacey Stearns.
Upon returning home, I was curious and Googled the types of grass in Myles Standish. Of the 63 varieties on the list, names such as poverty grass, dune grass, and warty panic grass also provided an indication that this wasn't grass that my horses usually eat.
At one point, we were riding down a dirt road, and as I looked to my right into the forest, the pine trees were all in perfectly straight rows. Someone had obviously planted them a long time ago. I'm assuming that was the Civilian Conservation Corps (CCC) based on the size of the trees. The CCC built infrastructure in state and national parks across the country in the 1930s, including many of the parks in Massachusetts.
Myles Standish is dotted with 16 freshwater and kettle ponds. Every once in awhile, we would come around a bend in the trail to find a clearing, and a pond down in the hollow. We never got close to any of the ponds, but the backdrop was lovely. Several of the ponds are ecologically sensitive, and access is limited or not allowed.
East Head Reservoir at Myles Standish State Forest. Photo by Stacey Stearns.
There is quite a bit of single-track trail through the woods that twists and winds like a long piece of spaghetti. Diagonal changes every five strides or so, and quite a bit of walking accompanied these stretches of trail for me, as random roots from the pine trees and rocks left behind by the glaciers made the area even more technical. There were also areas where the trees are close to the trail, and threaten your kneecaps. However, it's a great stretch of trail for working on your seat, transitions, and bending. Or you can walk these areas and just enjoy being in the forest. See you on the trails!
About the Author: Stacey Stearns is a lifelong equestrian from Connecticut. She lives on Mountain Dairy in Mansfield, her family's dairy farm, and enjoys trail riding and endurance with her Morgan horses
Topics: best places to trail ride in massachusetts, equestrian trails in massachusetts, horseback riding in massachusetts, horseback riding in myles standish state forest, massachusetts places to trail ride, myles standish state forest, myles standish state forest equestrian trails, places to trail ride in massachusetts