The Dordogne area of France, a picturesque region known for its history, chateaux, bastides, caves and fine cuisine, is a superb countryside to experience on horseback.
by Alice Fisher
Our France riding vacation took us through landscapes of cliffs, plains, rivers, forests, farmland and pastures. We were met in Bergerac and travelled by auto from there to Villeral and our lodging in a converted watermill. The first day, after riding through hay fields, we stopped for lunch at Chateau de Biron, built from 11th to 18th centuries and composed of several architectural styles.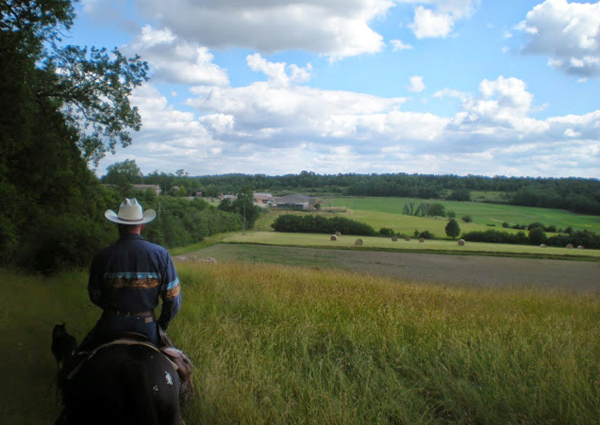 Michael, our riding guide, leads us to Chateau de Biron.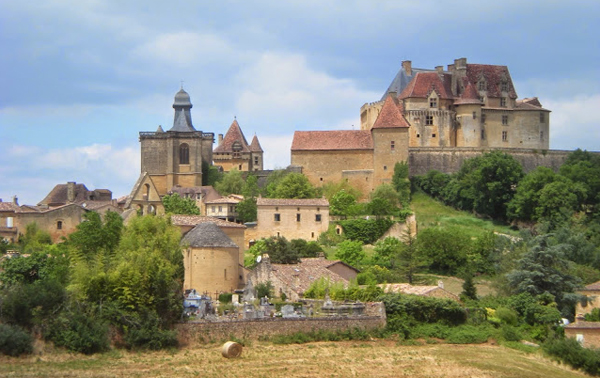 Chateau de Biron is a castle in the valley of the Lède in the commune of Biron in the Dordogne département of France.
After a tour of the Chateau, our afternoon ride brought us to, and through, Monpazier, a bastide founded in 1284, as the horses' pasture was on the far side. We then walked back to our lodging, a converted private residence. Quite an experience to traverse a perfectly preserved medieval town on horseback!
Riding into Monpazier.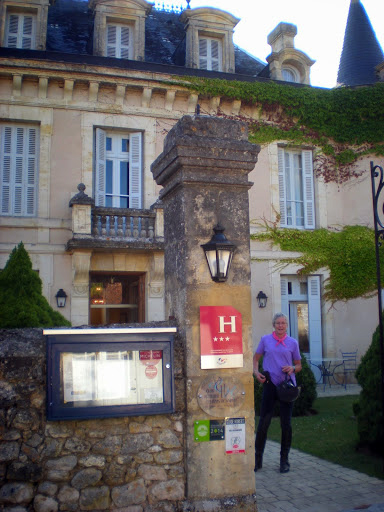 Outside hotel Edward I in Monpazier.
Day two we continued along the Saint-Jacques de Compostelle trail through farmlands and forests to the village of Cadouin, stopping for lunch in the 12th Century market square of Montferrand du Perigord. After putting the horses away in a pasture nearby our accommodations at La Salvetat, a converted cow barn/farm complex, we travelled by auto to Cadouin Abbey. Founded in 1115 by hermits living within the forest, this abbey also contains a Romanesque church as well as 15th and 16th century cloisters.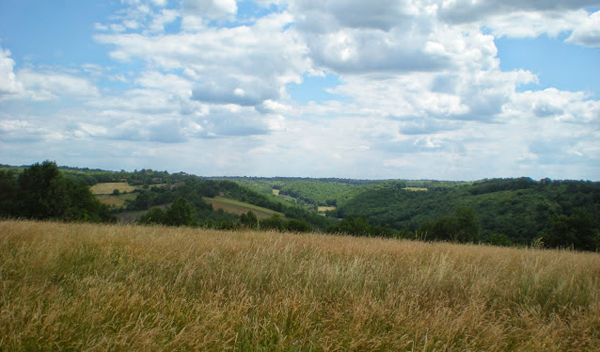 Views on the afternoon ride to Cadouin.
Riding to lunch in the Monteferrand market area.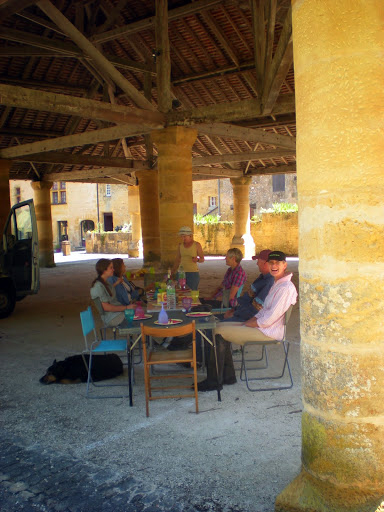 Monteferrand XII century market area.
Day three, a half day ride through the Bessede forest, took us to the village of Belves, originally settled in 250 BC. We stopped for lunch, and overnighted pasture for horses, at a stable outside of town. After lunch, I enjoy helping Down's Syndrome children tack up a group of delightful ponies. Our hotel, a converted grocery and adjoining building in this 11th century fortified town, was nearby the marketplace where cave dwelling covered over in 1764 were not discovered until 1907. I also enjoyed visiting the three churches in this town with their bells ringing sequentially.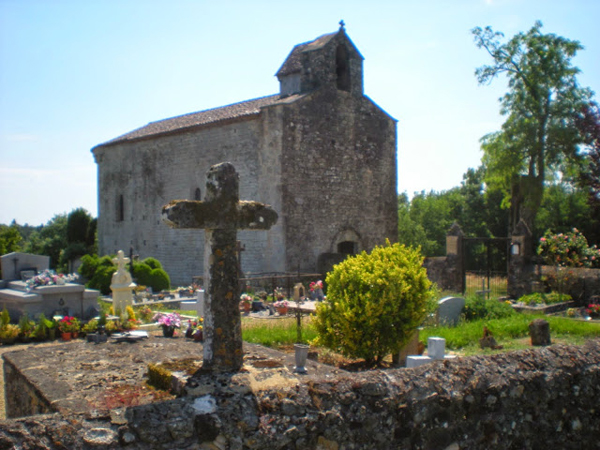 En route to Belves.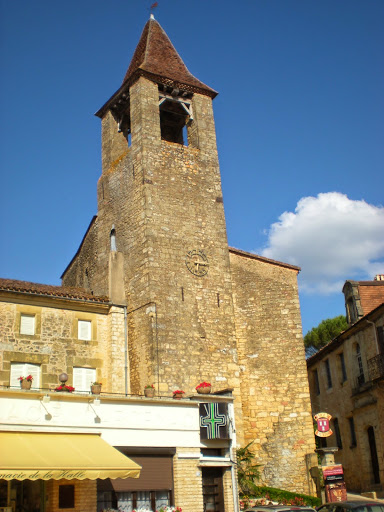 The Bell Tower in Belves.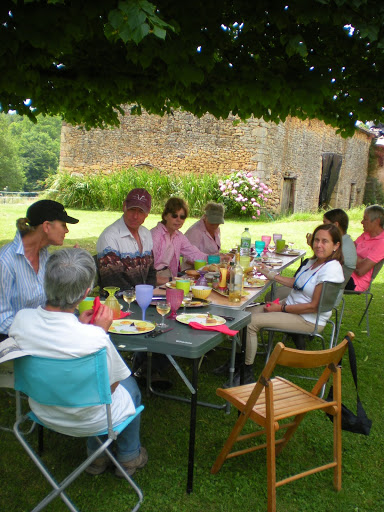 Lunch at duck farm Le Ferme Galtier.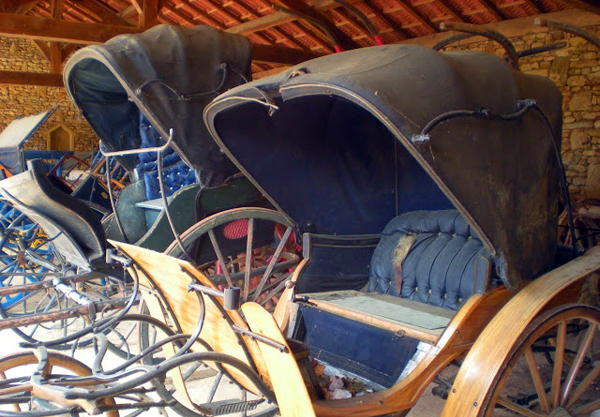 Carriages near the duck farm.
Day four we turned south, passing through chestnut woods on logging roads before stopping for lunch at a family run duck farm. Mary (my Irish friend) and I toured the nearby area after lunch discovering a collection of old carriages and a diversified cemetery. About 4pm we mounted up to follow farm/logging roads to Villefranche, a 13th Century bastide which we again traversed on horseback. The horses were turned out in a stable area and we were transported to the Hotel La Bastide. I wandered through the village marketplace and church before dinner, cooked and served by the Dutch owners.
Ride to Villefranche du Perigord.
Riding down Main Street.
Our final day we rode to Chateau de Bonaguil, a fortress built from13th to 15th centuries on a rock face. After lunch we toured the castle which was dismantled in 1793 when all the wood, iron and furniture was seized thereby levelling all ramparts and towers to the height of the main building. Abandoned and ruined, the castle fell into oblivion until bought by the town of Fumel in 1860 and listed as Historical Monument in 1862. Our afternoon ride through villages, vineyards and fields of wheat and tobacco, brought us to our final destination, a converted carriage house and stable.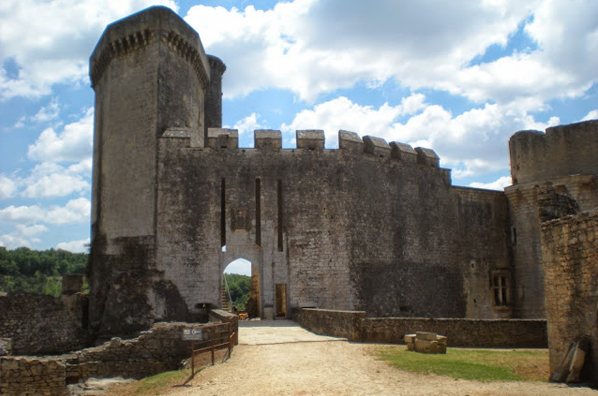 Chateau de Bonaguil XV century.
As mentioned, France is delightful . . . superb country, outstanding wine, excellent cuisine.
Learn more about France riding holidays on EquitrekkingTravel.com. Learn more about this trip run by
Ranch de Baralus.
Topics: Dordogne, Dordogne Horseback Riding, France, France Equestrian Vacations, France Horse Riding Holidays, France Riding Vacation, French Riding Holidays