Equitrekking contributor Susan St. Amand shares her experience horseback riding in the George Washington National Forest in Virginia.
The George Washington National Forest covers an expansive area along the Appalachian Mountains situated along the western part of Virginia and into West Virginia as well as connecting to the Jefferson National Forest on the southern end of Virginia's Shenandoah Valley. The Appalachian Mountain Range is also sandwiched between the Allegheny Mountains to the west and the Blue Ridge Mountains to the east, running along the Virginia Interstate 81 corridor.
Needless to say, the area has very many beautiful and scenic mountain views. Hikers, mountain bikers, hunters and fisherman also share this recreational area. This landmass is steeped in Civil War history. Equine enthusiasts enjoy riding the various mountain trails traversing through the George Washington National Forest. The far-reaching views of the valley once you reach the top of the mountains are magnificent. However, these trails are not for the faint-hearted and horses should be well-shod as the trails are very rocky.
We rode in the Slate Lick area of the George Washington National Forest located in Fulks Run, VA.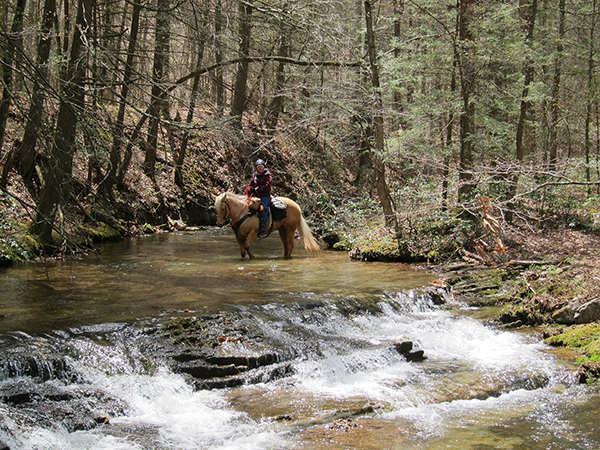 There were many creeks to cross with rushing waters from the recent spring rains from the mountains.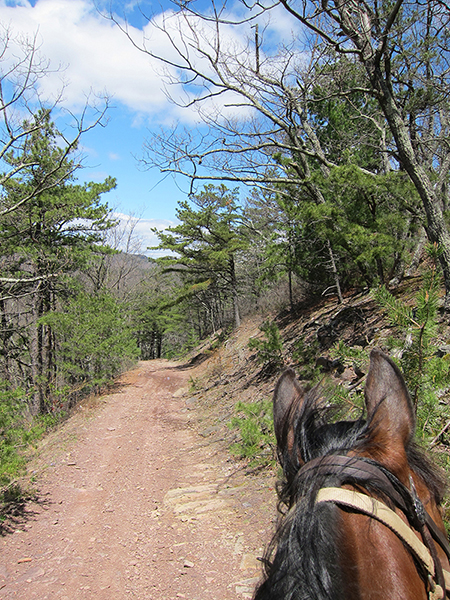 As we continued down the trail after climbing to the top of a summit, the afternoon sun warmed us.
Upon reaching Slate Lick Lake and Dam area, we observed several fishermen who were not daunted by the cold winds blowing over the lake. Slate Lick Lake is stocked in the spring by the Virginia Fish and Game Department with fish, including the streams and creeks that run to it, which makes it a popular fishing spot. Slate Lick Field and Lake is also accessible friendly for disabled outdoor enthusiasts.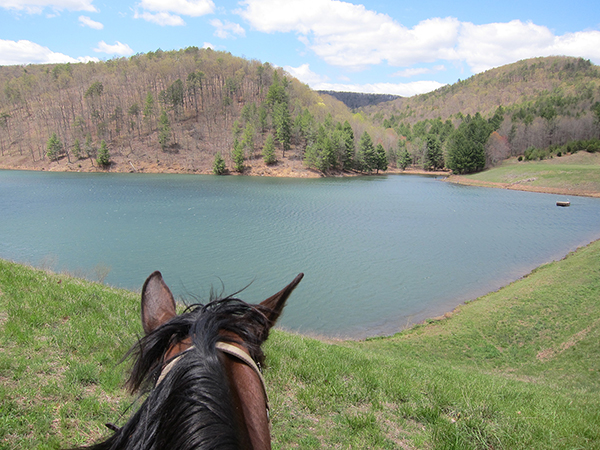 Taking in the scenery at Slate Lick Lake.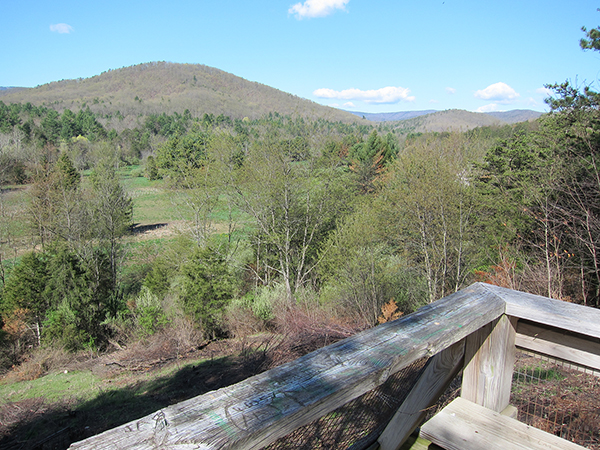 The observation deck holds spectacular views of Slate Lick Fields and the mountains at George Washington National Forest.
Primitive camping is available within Slate Lick Fields. Accessibility is through gravel roads leading to the trailheads. The Lee Ranger District of the George Washington National Forest has trail maps and information of the area. They may be contacted at 95 Railroad Ave Edinburg, VA 22824. Telephone: (540) 984-4101 or by visiting the USDA Forest Service, George Washington and Jefferson National Forests. Find further information on Slate Lick Fields and Lake at the Virginia Department of Game and Inland Fisheries website.
About the Author: Susan St. Amand is a Board Member of the Shenandoah Trail Riding and Horseman's Association in Shenandoah County, Virginia. She grew up in Northern Maine with horses on a farm and has been a transplant to Virginia for the past 26 years. A retired youth education technician, she enjoys planning horseback riding vacations with friends and has currently completed many rides in Maine, Pennsylvania, New York, West Virginia, Tennessee, North Carolina, and Virginia. Learn more about the Shenandoah Trail Riders & Horseman's Association on their website and on Facebook.
Topics: George Washington National Forest, george washington national forest equestrian trails, george washington national forest horse trails, horse trails virginia, horseback riding virginia, places to go horseback riding in virginia, trail riding guide george washington national forest, trail riding in george washington national forest, trail riding in virginia, virginia, virginia horseback, virginia trail riding, where to trail ride in virginia