Horse photographer Emily Peak is "living the dream" photographing horses. She describes her inspiration and shares of her favorite equestrian photos.
Since my grandparents and parents were all amateur shutterbugs, it seems as though I always had a hand-me-down camera in my hands.
My love of horses has always been present as well. In fact since my great grand father raced Trotters and Pacers in Ohio and then raised Belgians, it's probably in my genetic make-up! My sister who is six years my senior had a collection of 200+ Breyer Horse Models that she would never let me play with. When I was 5 my family moved from W.Va to Michigan and my parents bought my sister and I horses. Now that I could smell and pet my very own horse every day I never felt the need to play with my older sister's "toys".

At age 10 we moved to CA and I continued to be around, borrow and finally own my own horses. Through it all, I had a camera in hand and always tried to emulate the works of the professionals whose work plastered the walls of my room. I studied the works of Johnston, Vesty, Trees, Shugart, Trout and many others although I didn't realize I was studying since it was in the form of drooling over the majestic creatures they captured for me.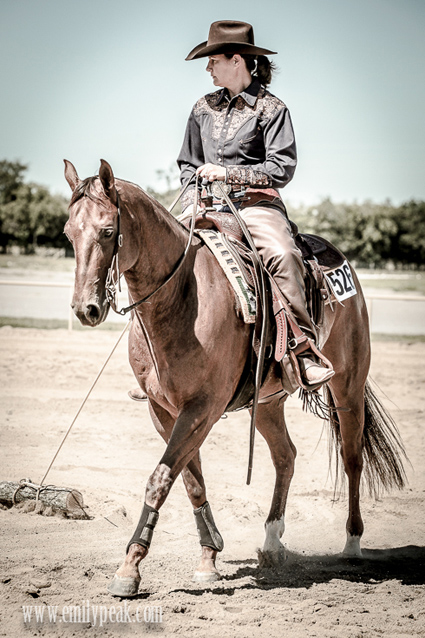 Fast forward to present day and I am living the dream of shooting people and their majestic four legged partners. I still wonder how I made it here and wonder if I am going to wake up from the coolest dream ever! I have had many opportunities to shoot amazing people, horses, locations and I never want anyone to ever think I take it for granted. It's all been an amazing journey with the biggest blessings being that I have met so many great people that I get to call friends and I can be an example to my boys of that saying that my grandmother always use to say to me; "Do what you love and you'll never work a day in your life!"
By following that mantra I have been fortunate enough to add to my resume several covers including the 2011 June Cover of Horse Illustrated, promotional shots used for Troxel Helmets, photos used on packaging for supplements and other horse items, a few reality TV shows, and numerous opportunities to capture portraits of legendary horsemen.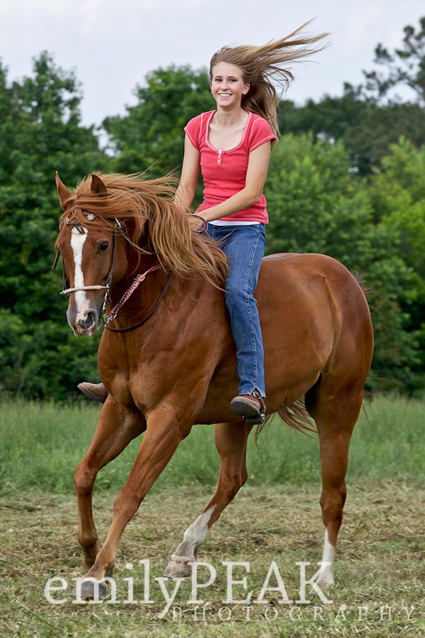 I have had no formal training as a photographer. I shoot on manual on my Canon 5d Mark II and mostly use my 70-200 2.8 lens. I play with the settings until I get the effect I want. The "delete" button is my best tool. If I don't like the shot no one will ever see it. Having said that, there have been a few "trash" photos that I have resurrected into what have been some of my personal favorites! Post editing is a handy thing!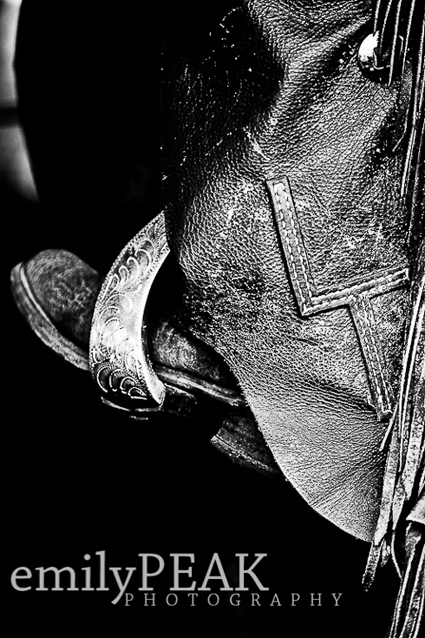 Composition is everything. In my compositions I try to find the essence of whatever it is I am shooting. I want the viewer to feel what it is I am capturing. If it's a cowboy's chaps I want you to feel that ride going through the mud that is now present on his chaps and boots. If it's a horse and rider working together, I want you to feel the softness in the reins and the willingness of the horse as he does his job.
In one of my most popular pieces that has gone viral (without photo credit unfortunately) titled "Curly Has A Stalker" it features my lipstick on one of my favorite horses "Curly Man McCue" owned by Ron "Slick" Sullivan who won 2nd in HRTV's America's Favorite Trail Horse. I had shot them many times in different competitions and I planted a big wet kiss on him and then used my 10-22 wide angle lens to capture what I thought was a just a cute little shot showing my love for this sweet boy! Little did I know that it touched the hearts of many who had done the same kiss on similar hairy soft noses!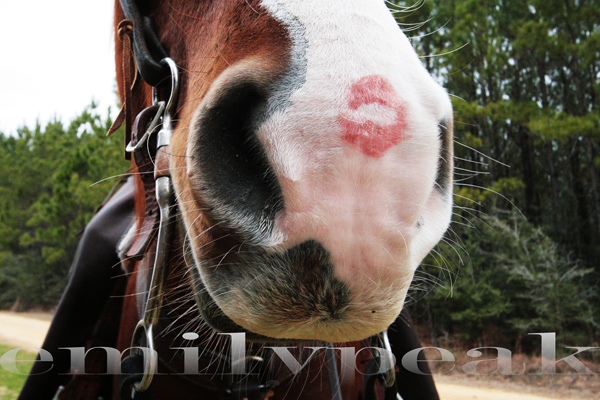 I shoot a few horse shows throughout the year simply to try to have works for my portfolio. I want to be a source for people to buy prints that they'd want to put into their home or office. Shots that don't necessarily show someone in particular but a piece of something that tugs on the viewer's heartstrings. My favorite subject to shoot is probably a Reiner or Working Cow Horse competitor. I love the precision teamwork combined with fast action of feet making dirt fly.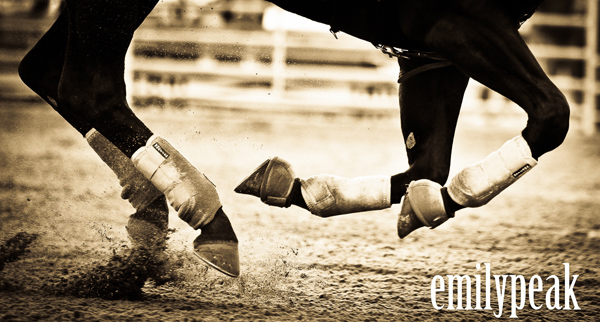 I love traveling! I have had the opportunity to travel to Northern Minnesota looking for wild life to shoot all the way down to the Arizona desert. I would love to travel more and show people the world from my point of view. My Bucket List of things to shoot includes any working outfit out West, the California Salinas Rodeo (my childhood hometown), the ancient Pyramids, and really anywhere in the world where the hearts of horses and horseman connect…
People ask me where I get my inspiration. I tell them I get it from horses, people, dogs, and my cat. I get it from light, dust, dirt and color. I get it from relationships, feelings, chemistry and smiles. I get it from sounds of horseshoes on pavement, bullfrogs croaking and the twinkle in someone's eyes. Barn hallways, porch swings and Mason Jars....
About the Author/ Photographer:
Emily Peak is a professional photographer with a passion for candid photography especially if it's set in the American West Lifestyle. Horses, cowboys, cowgirls and the relationship with each other is her ultimate favorite subject to shoot! Learn more at www.emilypeak.com and on Emily Peak on Facebook.

Topics: Emily Peak, equestrian photography, equestrian photos, equine photographer, equine photography, horse photographer, horse photography