The Equestrian Vagabond rides over historic Emigrant Trails in the City of Rocks National Reserve near Almo, Idaho.
by Merri Melde
Gold-seekers. Hunters. Trappers. Wanderers. Adventurers. Flee-ers. Seekers. Hundreds of thousands of pioneers migrated westward along the California Trail in the early and mid-1800's. The northern branch of the California Trail passes through the old lands of the Shoshone and Bannock Indians, through what is now southern Idaho, and the City of Rocks National Reserve.
Between 1843 and 1882, an estimated quarter million emigrants travelled through the City of Rocks on this trail en route to the West. In 1852 alone, some 52,000 people passed through.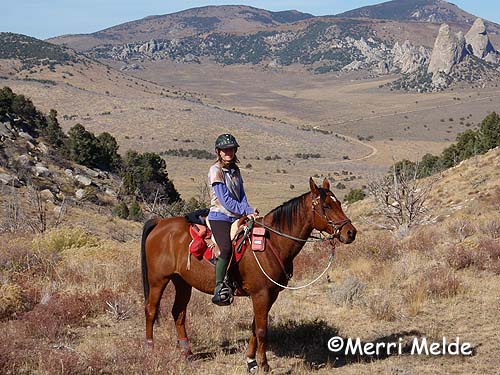 Fun Fact: Beginning around 1860, a local version of the famous Pony Express also ran through the City of Rocks, along a route that extended from Boise, ID to Brigham City, UT.

City of Rocks was a landmark for the emigrants, one that inspired wonder and romantic awe, and a form of relief in their long journey from the East:
Sallie Hester - August 3, 1849: "Passed some beautiful scenery, high cliffs of rocks resembling old ruins or dilapidated buildings."
Dr. John Hudson Wayman - July 12, 1852: "This City is walled in on every side with towering granite mountains, some peaks shooting athwart the sky like towering domes. While hundreds of piles, peaks, steeples and domes, of all shapes possible in the distance looking like an old dilapidated City."
The Twin Sisters, two side-by-side granite spires, one of which is 2.5 billion years old and the other 25 million years old–– have been significant throughout recorded human history. The peaks may have had important spiritual significance for the Native Americans. They were a significant landmark for the pioneers travelling the California Trail. Not named "Twin Sisters" by white people until 1848, there were 88 descriptions in 86 pioneer journals comment on them, including Steeple Rocks, Twin Mounds, Twin Buttes, Twin Pyramids at Gate, Two Dome Mountain, and Castle Rocks.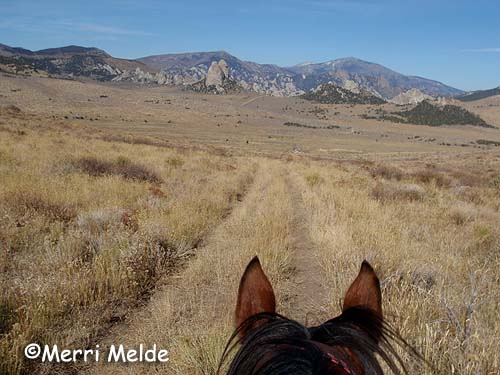 Wagon trains also followed the trails through the City of Rocks, perhaps with the help of diary accounts of previous migrants.

The old California Trail snakes through the Circle Creek Valley, surrounded by the unique granite formations that give City of Rocks its name. Emigrant Canyon, through which runs the old Salt Lake Alternate Emigrant Trail and the old Boise-Kelton Stage Route, spills into City of Rocks with a view of the Twin Sisters where it meets the California Trail. Heath Canyon climbs up and over a gentle pass that also drops down to the California Trail and a view of the Twin Sisters.
Perhaps the pioneers also used this new route we rode. Maybe they travelled up the valley of Junction Creek, and turned off and camped at Sparks Spring and watered their animals like we did.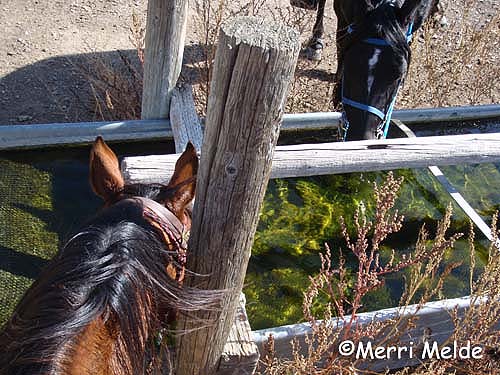 Perhaps they picnicked and rested at this giant granite pinnacle like we did.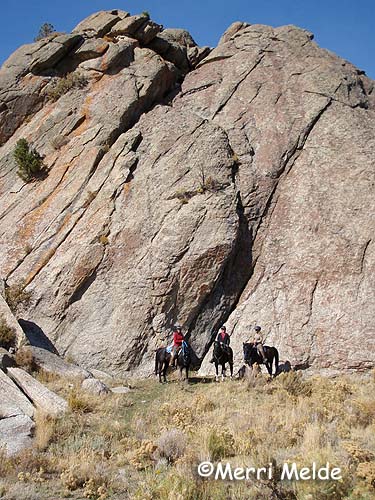 Maybe they crested this unnamed pass and were amazed at the Twin Sisters that rose into view and guided them like a beacon as they descended to the Salt Lake Alternate trail, as they did for us.
Maybe our awe matched their own.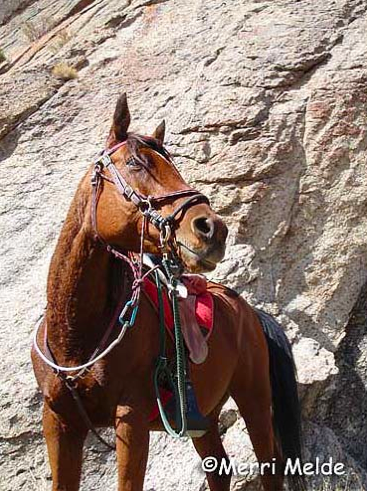 How you can go: Learn more about horseback riding in the City of Rocks National Reserve on their website, which includes information on equestrian camping and fees. There is a remote and primitave campsite, the Juniper Group Site, for equestrian campers within City of Rocks National Reserve.

About the Author: Merri Melde is a professional horse photographer, writer, rider, and traveler, with a passion for endurance riding that borders on obsession. Her equine photography and adventures from around the world can be seen at www.TheEquestrianVagabond.com and on her blog at theequestrianvagabond.blogspot.com.

Topics: California Trail, City of Rocks, city of rocks horse riding, city of rocks horseback, Idaho, idaho equestrian, idaho equestrian travels, Idaho horse riding, idaho horse trails, idaho horseback, idaho horseback riding, idaho trail riding, Merri Melde