A Canadian rider sets off with her sister and mother on Stone Horse Expeditions & Travel's autumn horse trek in Mongolia, the 10-Day Gorkhi-Terelj Expedition.
by Jennifer Lake
Last winter, my sister and I decided to plan a trip together. Interestingly, and somewhat randomly, we had both always wanted to visit Mongolia and incorporate horseback riding into our trip. After doing some internet searching we located the Stone Horse website. After a Skype conversation with one of the owners, Keith, some discussions, and the addition of our mom to the group – we were booked!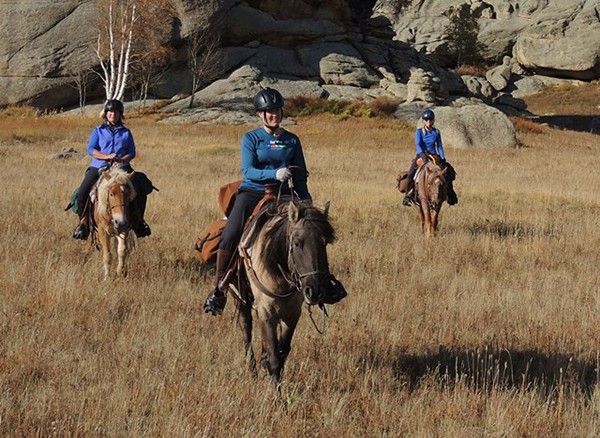 Jennifer and her sister Patti and mother Johanna Lake horse riding in Gorkhi-Terelj National Park.
It was difficult to know what to expect, however at all turns, the Stone Horse team endeavored to make our trip memorable and enjoyable. It was a truly unforgettable experience. We arrived in Ulaanbaatar and embarked upon the 10 day Gorkhi-Terelj trip with Stone Horse in mid-September 2013.
We were picked up at the airport by the Stone Horse driver, Navan, and dropped off at our hotel for the first night. The next morning we were picked up from the hotel and driven outside of the city to the staging area for our trip – a beautiful rural property owned by Keith and Sabine, the Stone Horse owners.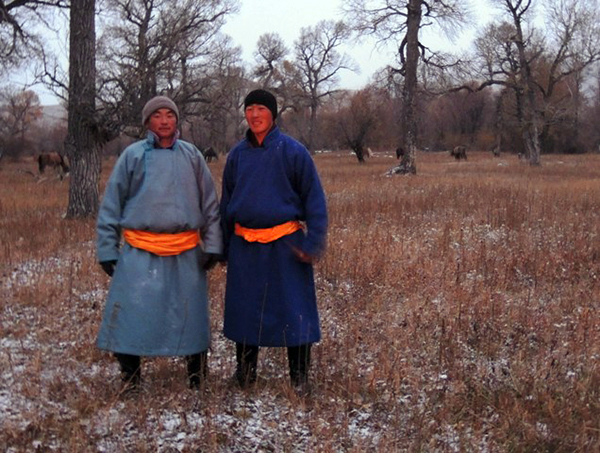 Buyana and Buyamba, dressed in their warm deels to fend off the cold of the day.
While the Stone Horse team (mainly Byambaa and Byuanaa) packed up the horses – as an aside the packing involved with these trips is truly a remarkable feat of organization – we were provided with saddlebags and two waterproof sacks to pack our stuff for the trip into. It was quite clear that we had all over packed and the capacity of the sacks necessitated some snap decision making. As we discovered on the trip, all we really needed fit into the bags and sacks provided.


Jennifer on Little Big Man in Gorkhi-Terelj National Park, Mongolia.
At this time we were also introduced to our mounts for the trip. Keith did an excellent job of matching each of us up with a horse well suited to our respective abilities and experience. Stone Horse owns twenty-one Mongolian horses. All are sturdy, hardy geldings of varying colors and ages. I was pleased to note that they all looked well cared for and fit.
I had the good fortune to be paired with a handsome and talented grulla named Little Big Man. I'll admit that I had admired him from pictures of previous trips posted on the Stone Horse website and Facebook page. He was a lot of fun with a great personality.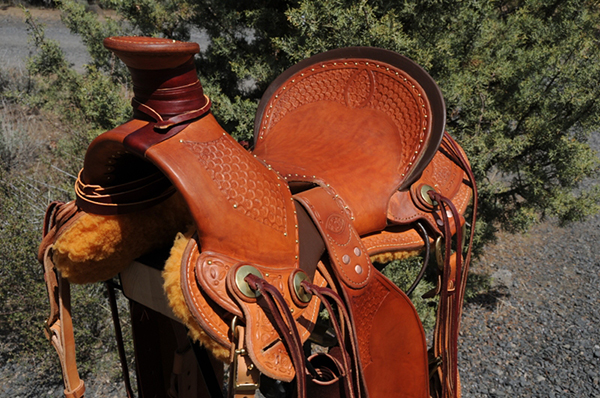 More and more of the saddles in use on Stone Horse Expeditions are from our own Saddlery "Stone Horse Saddles."
Sabine makes her own Western saddles. Visually, they are works of art but I can also vouch for how comfortable and functional they are, particularly for those long days in the saddle.

Camping with Horses in Mongolia
The 3 of us are not big campers although we are all horse lovers (albeit most of our relevant equine experiences having been in the more distant past). Granted this was "enhanced" camping in that Byambaa and Byuanaa packed and unpacked the camp at each site, tacked up our horses, and Sabine made our meals. That said, we still slept in a tent (which we were eventually able to pitch without Keith's assistance), used "outdoor" bathrooms and went without showering for 8 days. No small feat for us city girls! It's amazing how quickly you can adapt to these things – on a short time basis anyway!
Johanna, Jennifer and Patti in the wood heated dining tent. Makes for comfortable camping in the wild.
I ate better while camping than I do at home. Sabine worked tirelessly every day to make us plentiful, tasty and healthy meals – most of them from scratch. She accommodated our somewhat high maintenance dietary needs (vegetarian and gluten free vegetarian) without complaint and came up with some creative dishes. We were very amazed and pleasantly surprised by the quality and variety of food throughout the trip.

Gorkhi-Terelj National Park Mongolia
The entirety of the trip was spent in Gorkhi-Terejl National Park which is beautiful and vast. Each day we would ride to a new camp site, stopping en route for a picnic lunch. I was amazed at how the pack horses followed alongside the riding horses with no need for a tether or ponying. It was very cool to see their herd mentality and connection. We did not encounter much wildlife in the park. We saw many herds of domestic horses, which almost appeared wild as they roamed free throughout the park in addition to cattle and yaks. Gers and homesteads were intermittent throughout. Occasionally, we crossed paths with one of the park rangers. Mostly, the landscape was remote and we were the only people for miles around.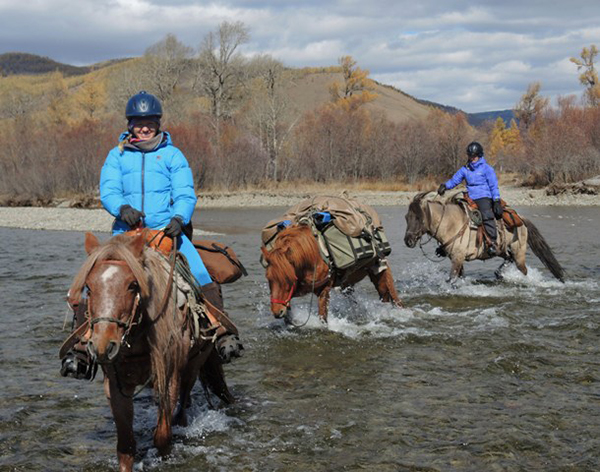 Crossing the Terelj river in Gorkhi-Terelj National Park in Mongolia. No problem for these horses.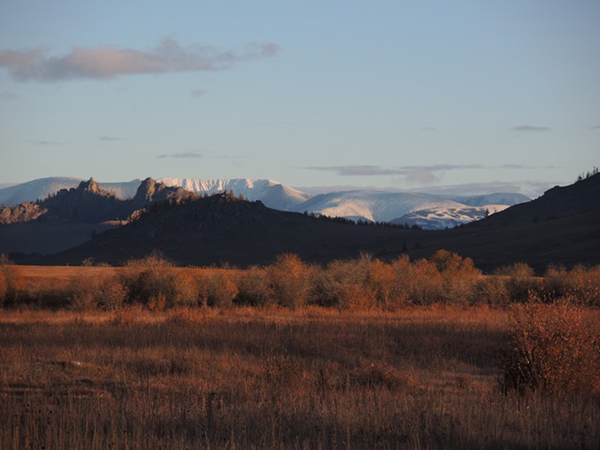 Asralt Khairkhan, from the Tuul river in the Gorkhi-Terelj National Park in Mongolia.

Horse Camping in Mongolia a Wonderful Diversion
The hours spent on horseback each day were peaceful and serene. It is hard to describe how vast the landscape is and how diminutive we felt in its midst. We were engulfed by beautiful mountains and rock formations, forests, valleys, the Terelj and Tuul Rivers and surrounded by blue skies.
Mongolian horses grazing in Gorkhi-Terelj National Park. The stallion asserts his presence and protection of the herd as our group of riders with Stone Horse Expeditions passes by.
When we reached our new camp site at the end of each day, we would set up camp and spend time relaxing and enjoying a wilderness meal and conversation. The horses spent the nights grazing. While we slept, they were tethered near our tents so that they would not wander far and to keep them safe from wildlife.
A few nights we heard wolves howling at the camp. They sounded as though they were very nearby although they were actually many miles away.
The weather varied throughout our trip. We lucked out with some beautiful sunny days that accentuated the blue skies and fall colors. On a few days the temperatures fell below freezing and it snowed. Almost like winter camping!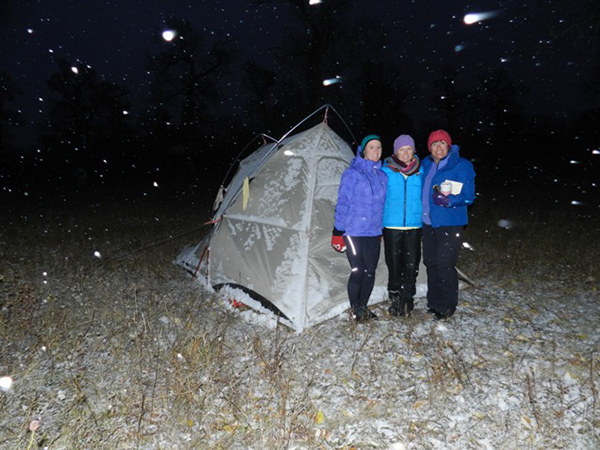 Jennifer, Johanna and Patti with their tent in the snow.
The small size of these trips gives them a very personalized and community feel. The Stone Horse team was phenomenal and we enjoyed getting to know them. Keith and Sabine share a genuine passion for ecotourism and for Mongolia. Oggie, the office manager, is a doll and was an invaluable resource to us before, during and after the trip.
To be out in the fresh air all day and night and so far removed from the bustle and congestion of urban life was a wonderful diversion. Once we landed on the tarmac back in Canada at the end of the trip it almost seemed like a dream. Our stories do not do the experience justice.

Learn more about riding vacations in Mongolia on the Stone Horse Expeditions & Travel website and on their page in the Equitrekking Vacation Guide and by contacting Keith and Sabine at SKYPE: fishandnotch, Tel. +976 9592 1167 or by Emailing Keith and Sabine. Take advantage of their 2015 Discount for Groups and Couples, including 10% off for 3 or more people booking together and 5% off for 2 people booking together and more.
Topics: Asia, Horseback Riding Holidays, Mongolia, Mongolia horseback riding vacations, Mongolia riding holidays, Mongolia riding vacations, Mother Daughter Riding Vacations, Riding Vacations, Stone Horse, Stone Horse Expeditions