Remote valleys, high alpine lakes, towering peaks, prairie grasslands and mountain passes... this is some of the remarkable scenery you may discover on a horseback riding vacation in Alberta, Canada.
Exploring in and around Banff National Park, Canada's oldest national park, is a once in a lifetime adventure, filled with beautiful nature and interesting wildlife, including grizzly bears and wolves. Many riding vacations in this area take travelers to remote backcountry camps and historic lodges, allowing you to truly get away from it all. Vehicles are restricted in this part of the world, meaning horses are the best way to get into nature.
If you're seeking a remote, secluded horseback riding adventure with dramatic mountain scenery, scroll down for our Alberta Horseback Riding Vacations Photo Journey!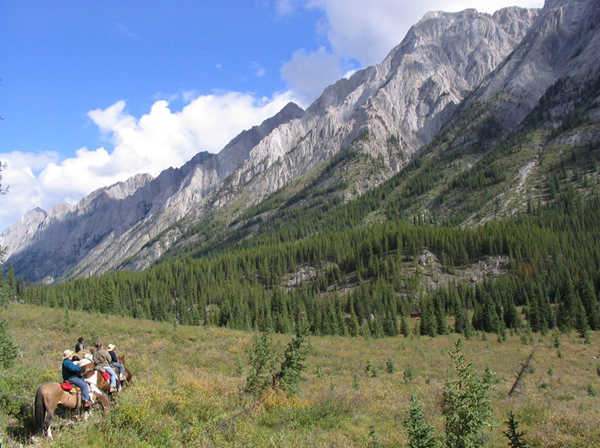 Riders pass Sundance Mountain Range on a backcountry horseback riding vacation with Holiday on Horseback in Alberta, Canada. Travelers venture deep into the heart of Banff National Park to see stunning scenery and unique wildlife on these horseback riding tours.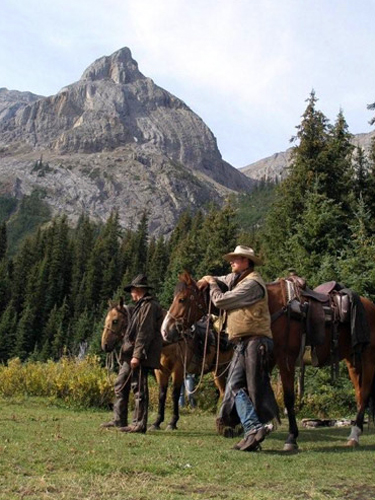 Two wranglers get ready to start the day in the Canadian Rockies with Holiday on Horseback, which has been leading riders into the wilderness for 51 years. Guests stay in rustic tent camps or cozy lodges.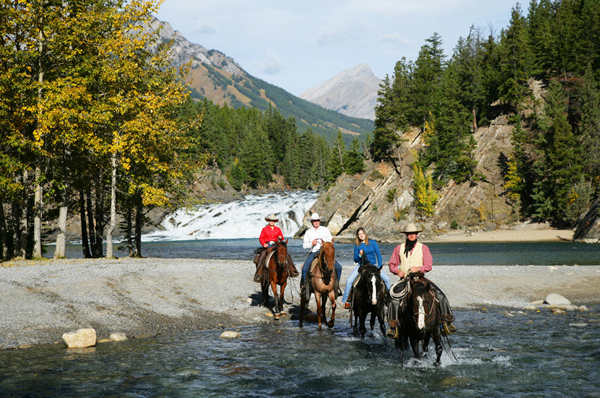 Crossing at Bow Falls on the Spray River Ride with Holiday on Horseback in Banff, Alberta. Carved out by glaciers and the Bow River over the years, this area is ripe for photography opportunities.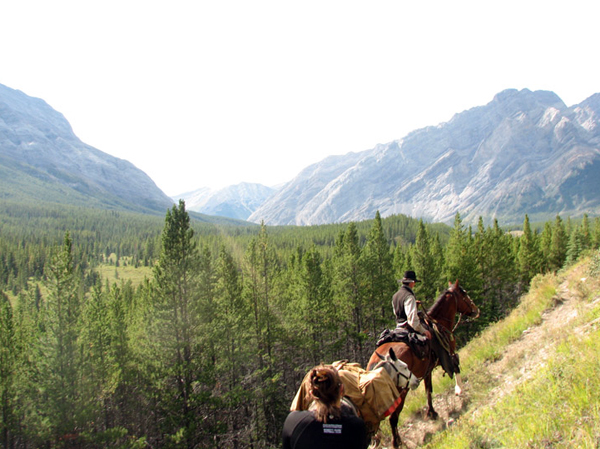 Horseback riding from Stoney to Flints Park, guests of Holiday on Horseback pass towering peaks on their horseback riding holiday.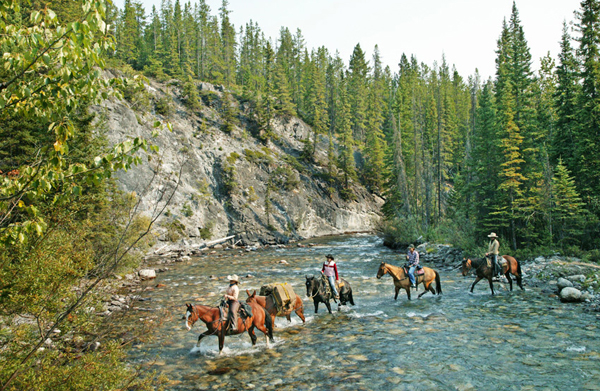 Crossing Healey Creek on a backcountry horseback riding tour with Holiday on Horseback in Alberta.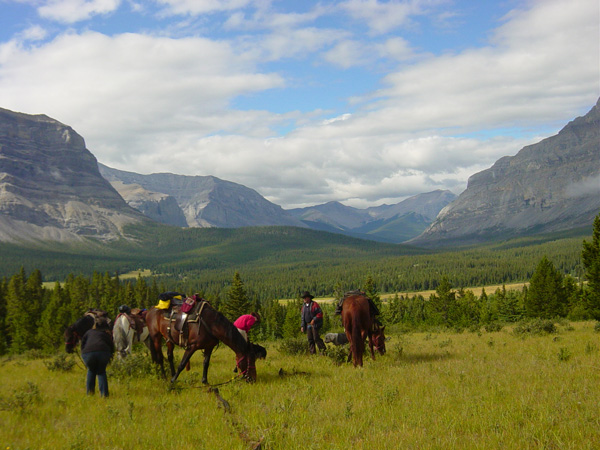 Riders stretch their legs in a pretty meadow with the Outpost at Warden Rock in Alberta, Canada. The Outpost is a remote backcountry lodge nestled in the majestic Canadian Rockies, 50 miles north of Banff and just over 50 miles west of Sundre.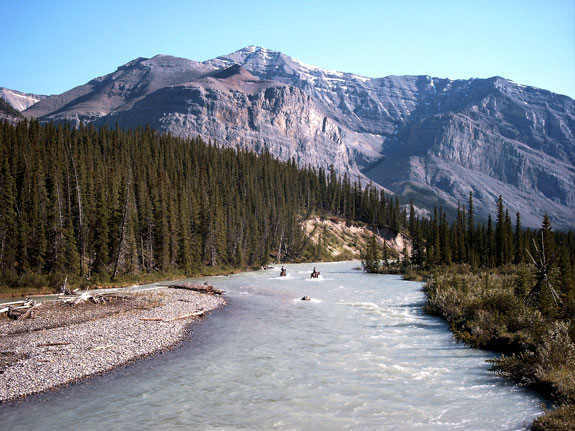 Travelers cross a glacial river with the Outpost at Warden Rock. Restricted vehicle access means travel in this part of the world is by horseback, wagon, or stagecoach-- all specialties of The Outpost.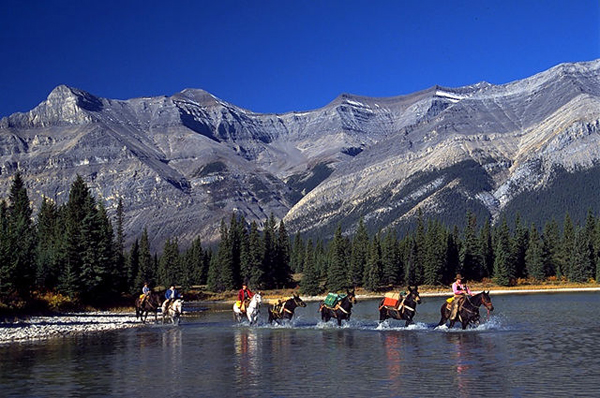 The Outpost at Warden Rock offers horseback rides on smooth gaited mountain horses, making an adventure into the backcountry a comfortable experience.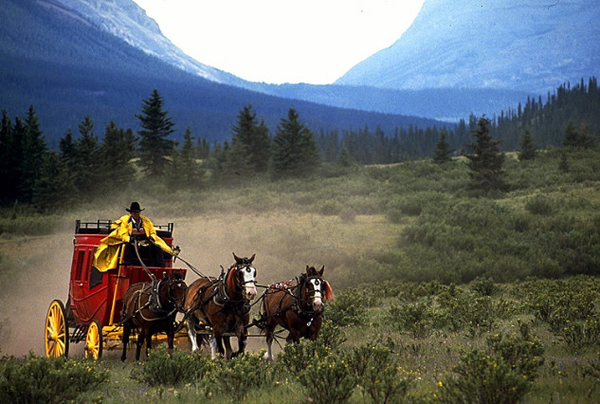 The Outpost uses teams of two to six horses or mules to pull stagecoaches or wagons. This is your transportation from the Bighorn Campground to The Outpost, their backcountry lodge situated beneath Wapiti Mountain and Warden Rock along the banks of the Red Deer River.
Learn more about horse pack trips in Alberta with Holiday on Horseback and the Outpost at Warden Rock in the Equitrekking Vacation Guide, a global resource for horseback riding holidays.
Topics: alberta, alberta horse holiday, alberta horseback riding, alberta horseback riding vacation, alberta horseback riding vacations, banff, banff horseback riding, banff horseback riding vacations, banff riding vacation, canada, canada equestrian vacation, canada equestrian vacations, canada horse holiday, canada horseback riding holidays, canada horseback riding vacation, canada horseback riding vacations, canadian rockies, outpost at warden rock, warner guiding & outfitting