Traveling in Italy... what's not to love! Horseback riding in Italy brings the sights, sounds and flavors of your Italy vacation to new heights.
Imagine riding through olive fields and vineyards by day, spotting medieval fortress villages on hilltops, while you take in the aroma of green olives. At the end of the day you've worked up an appetite, which can be quenched over and over again with a multitude of zesty Italian dishes and local wines. It's Italy, and you're in travel paradise! There are great places to saddle up for an all-encompassing riding holiday both in Tuscany and Sicily.

Here are 10 reasons to take a riding holiday in Italy.
#1 The Food!
The chefs in the kitchen at Castellare di Tonda are all Tuscan locals, and pride themselves on preparing simple, tasty local food following the Tuscan traditions of their parents and the generations before them. On the Sicily Riding Tours, menus give you the chance to try a wide variety of the best dishes of the "infinite" Sicilian mountain cuisine. Bring elastic-waist riding tights or jeans!
Lunch in a shepherds hut with Sicily Riding Tours.
#2 The Wine!
Enjoy trying the fruits of local labor with a variety of wines, both in Tuscany and Sicily. Believe us, local foods and wines taste best when tried in the local setting. There's just something about it! And, you'll have worked up an appetite after riding all day.
Riding Western style by farmland in Tuscany on the Tuscany Farmhouse, Resort & Spa Riding Holidays.
#3 Italian Architecture
Stone arches and bridges, Byzantine churches, farmhouse villas and medieval villages are just some of the architecture you'll ride to and enjoy on an Italy riding vacation.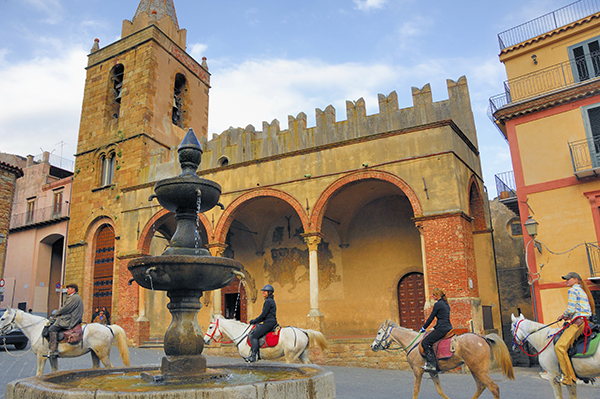 Riding in Madonie, Sicily through the central square with medieval church of Castelbuono in the background with Sicily on Horseback.
#4 Memorable Pit Stops
You know you're going to remember your water stop when it's at a medieval fountain. You may have lunch in a field of wildflowers or on top of a mountain in Sicily. These stops... you'll never forget them.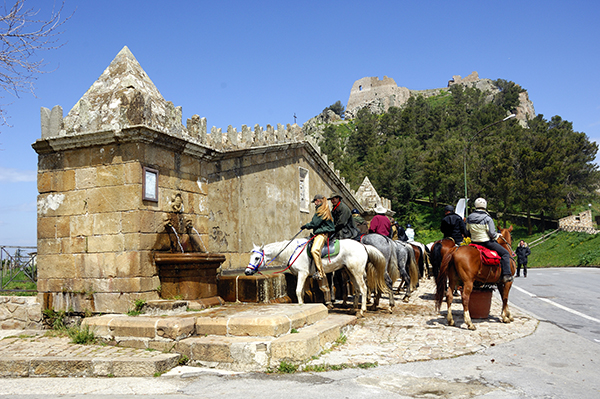 A water break at the medieval fountain of Geraci in Sicily.
#5 Italy's Scenery
Whether it's dreamy Tuscany or the mountains and historic villages of Sicily, you're in for picture perfect scenery on an Italy riding holiday.
Overlooking the Tuscan hills with Castellare di Tonda.
#6 Quaint, Historic Accommodations
Guests with Castellare di Tonda stay in Tuscan Style apartments and suites created in original farmstead houses and each distinctively decorated. Travelers with Sicily on Horseback stay in Country Houses, agriturismo, a style of vacationing in farm house resorts. These have been hand selected by owners Franco and Paolo for the quality of their services, location and their food. Some of them have swimming pools and one has a very good Spa and all have cozy, unique rooms.
Villa Rainò Countrry House, one of the cool places you'll stay as you ride through Sicily.
#7 Good Horses

Castellare di Tonda estate breeds and trains Quarter horses and Paint horses. Guests love watching the foals with their mothers, stallions in training, and young horses starting their career with the trainers. There is also a selection of Criollo and Fjord horses for trail riding. The horses from Sicily on Horseback are all Sicilian Indigenous breeds, including the Sanfratellano Horse, which is runs wild in the Nebrodi mountains, and the Sicilian Pure Oriental Horse, of which there are less than 200 left. These breeds are great for endurance and especially nice if you are looking to add diverse breeds to your riding repertoire.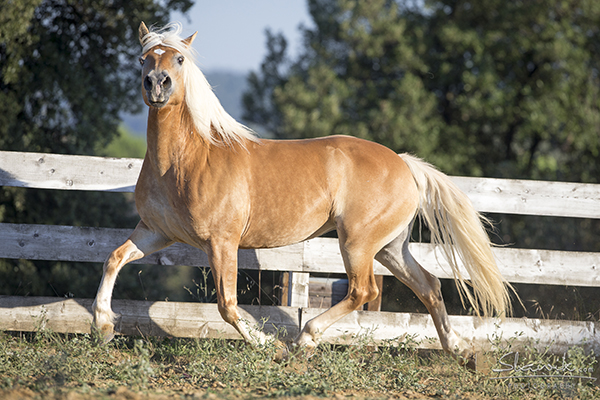 A beautiful horse from Castellare di Tonda in Tuscany.
#8 Comfortable Saddles
The saddles are a concern for many people taking riding vacations. Will you have a good horse and how will that saddle be? With Sicily on Horseback, you'll ride in trekking saddles with a front strap and crupper, huge waterproof saddle bags and to allow English and Western riders to go up and down in the mountains with a saddle that never moves and with all the gear you need. American riders used to the Western style will also like enjoying Western style riding at Castellare di Tonda, something unique to many European riding stables.
You'll want a comfortable saddle when you spend the day in it! Riding with goats in Sicily.
#9 History on Horseback
Sicily has a fascinating history and on the Sicily on Horseback tours, riders trek to ancient villages in the mountains, many of which were founded by the Greeks, Arabs, Normans and Romans. There are castles, cobblestone roads and ancient historical centers that can be visited on horseback.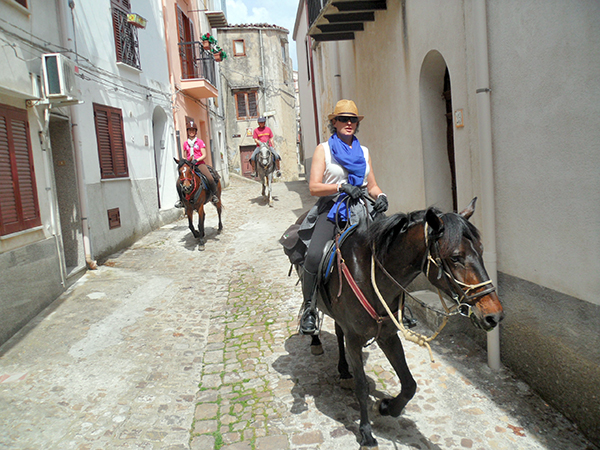 Traveling through a village in Sicily with Sicily on Horseback.
#10 Stunning Sunsets
Taking the time to enjoy a sunrise or sunset on your vacation is a must. Rise early and find a horse to hang out with at sunrise. You won't soon forget the experience. Enjoy a glass of wine or an aperitif at sunset. Remember, you're in Italy. Take things at a slower pace!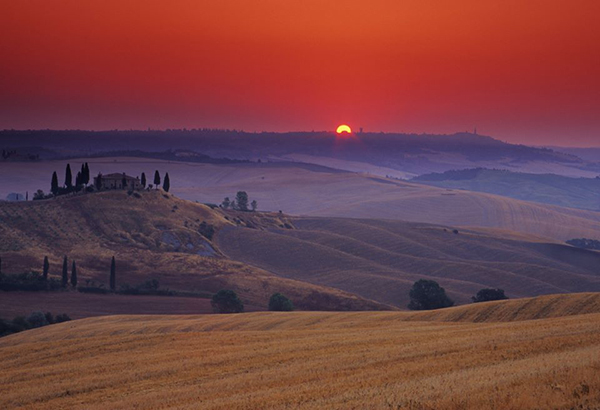 A stunning sunset over the rolling hillsides of Tuscany. Photo from Castellare di Tonda.
Learn more about riding in Italy on the Tuscany Farmhouse, Resort & Spa Riding Holidays and Sicily on Horseback on their websites and in the Equitrekking Vacation Guide.
Topics: Castellare di Tonda, Italy, Italy Equestrian Vacations, Sicily, Sicily Horseback Riding Tours, Sicily on Horseback, Sicily Riding Tours, Tuscany, Tuscany Horseback Riding Holidays, Tuscany Riding Vacations